Did you know that the number of companies using AI has grown by 270% between 2015 and 2019?
Artificial intelligence has become immensely popular in recent years. Today, AI is used in various industries and applications, from healthcare to the service sector. Companies have started to use AI tools for a content writing to meet the increasing demand for high-quality content.
Are you planning to introduce AI writing software into your business? With lots of AI writing tools available in the market, choosing the best one is challenging. But we have made it a lot simpler for you. 
In today's blog, we have shared the top 10 AI writing tools worth investing in 2022. These tools will help you speed up the content writing process for your brand. Before sharing the list of these tools, let's understand what exactly AI writing tools are and how they work. Here we go!
What is AI?
To understand an AI writing software, you must first know about its foundation, which is AI. AI stands for Artificial Intelligence. Simply put, AI is a technology that mimics human intelligence to some level. It's used in software and tools to perform tasks in a smart way. 
A crucial aspect of AI is its self-learning ability. AI-powered systems can improve themselves based on information and experiences they collect over time. So that's a crucial difference between computers and AI. 
Computers run on human input and are based on pre-programmed algorithms. They can't improve themselves, however, an AI can. Now let's understand where and how AI is used? 
What is AI Used For?
You might not know, but AI is already abundantly present in our daily lives. There are so many examples we can talk about:
Translation softwares:

automatic translations are getting better and better thanks to AI.

Smart devices:

think of a thermostat, it adjusts the heating automatically depending upon the environment

Self-driving vehicles:

the perfect example here is a Tesla. A Tesla automatically applies brakes when the AI present in the car detects potential accidents.
And – interesting for us – many search engines nowadays also use AI. AI is everywhere around us – whether it's translation software or a Tesla car. This technology has made so many tasks so much easier, content writing, for example. AI writing tools are one of the most used business AI tools. As a business, you can use the power of AI to boost your growth. But what exactly are AI writing tools? Let's figure that out!
AI Writing Tools – Detailed Overview
AI writing softwares are basically content writing softwares that helps you create desired content using AI. With a combination of various algorithms and natural language processing techniques, these tools allow users to create essays, blog posts, articles, one-liners, and much more.
AI writing apps are new to the world of content writing, but still, there are lots of platforms and applications worth choosing. Every brand's AI tool has its own unique features and specializations. Some work efficiently for SEO, while others might suit ad copies more.
Now when you know what AI writing tools are, it's time to understand how they work. Keep scrolling to discover the detAIls about the working of an AI writing software.
How Does an AI Writing Software Work?
Artificial intelligence has two components: machine learning and artificial neural networks. Content-writing softwares uses these same elements for the production and editing of content. Thanks to AI, new automation algorithms are being created and improved every then and now. This means with time, we get to experience more efficient AI writing softwares.
In addition, artificial intelligence writing software is capable of analyzing data in vast and complex quantities. It can recognize the most suitable content patterns in no time. This helps the software generate quality content ideas.
Artificial neural networks are a digital process that makes artificial neurons as a medium of communication. It is the use of this technology that adds a human touch to the automatically generated content. Now let's move on to the most awaited part of this blog – the List of AI Writing Apps. 
Top 10 AI Writing Softwares That Are Worth Trying
When you search for AI writing softwares on the internet, you'll have a plethora of options. Having so many options in hand, most of the time overwhelms the selection process. This leads to bad selection. 
To help you avoid choosing the wrong tool, we have compiled the list of the top ten best AI writing tools. You can't make the wrong choice when all you have is the best tools to choose from. Here's the list of AI writing tools:
#1 Jasper
Whether it's about the best writing software for novelists or for businesses, Jasper is a favorite choice of many. If content writing is one of the processes in your business, this software is the perfect solution to make the whole process simpler and faster.
Jasper is used by thousands of copywriters, entrepreneurs, and agencies. Formerly conversion.AI and then Jarvis.AI, it has now become Jasper.AI due to licensing conflicts with Marvel. The already excellent performance of Jasper.AI can be expected to be improved soon. All thanks to two similar writing softwares that Jasper has just acquired: Headlime and Shorty.AI.
Jasper's allows you to produce high-quality content within just minutes. The content produced is 100% original and optimized for SEO on search engines, including the giant Google. This AI writing assistant has been tested and loved by expert writers. Being such a useful content writing tool, Jasper occupies the first rank in the list of best AI writing software currently.
Features
Offers content that has an excellent conversion rate

Content can be translated into twenty languages

Generation of quality content within a matter of minutes

Content generation for emAIls, blogs, websites, etc.

AIDA Framework (Attention-Interest-Desire-Action)

It's also a great

AI noval writing software

to overcome writer's block

Original content guaranteed – 99.99% plagiarism-free

Built on the most distinguished IA GPT-3 linguistic model
Pricing
Jasper offers 2 main plans – The Starter plan and Boss Plan. The Starter plan costs $29/mo or $348 annually. It includes 20,000 words /month. On the other hand, the Boss Mode plan starts at $99/mo or $1188 annually. This plan lets you write 100,000 words per month.
#2 INK Editor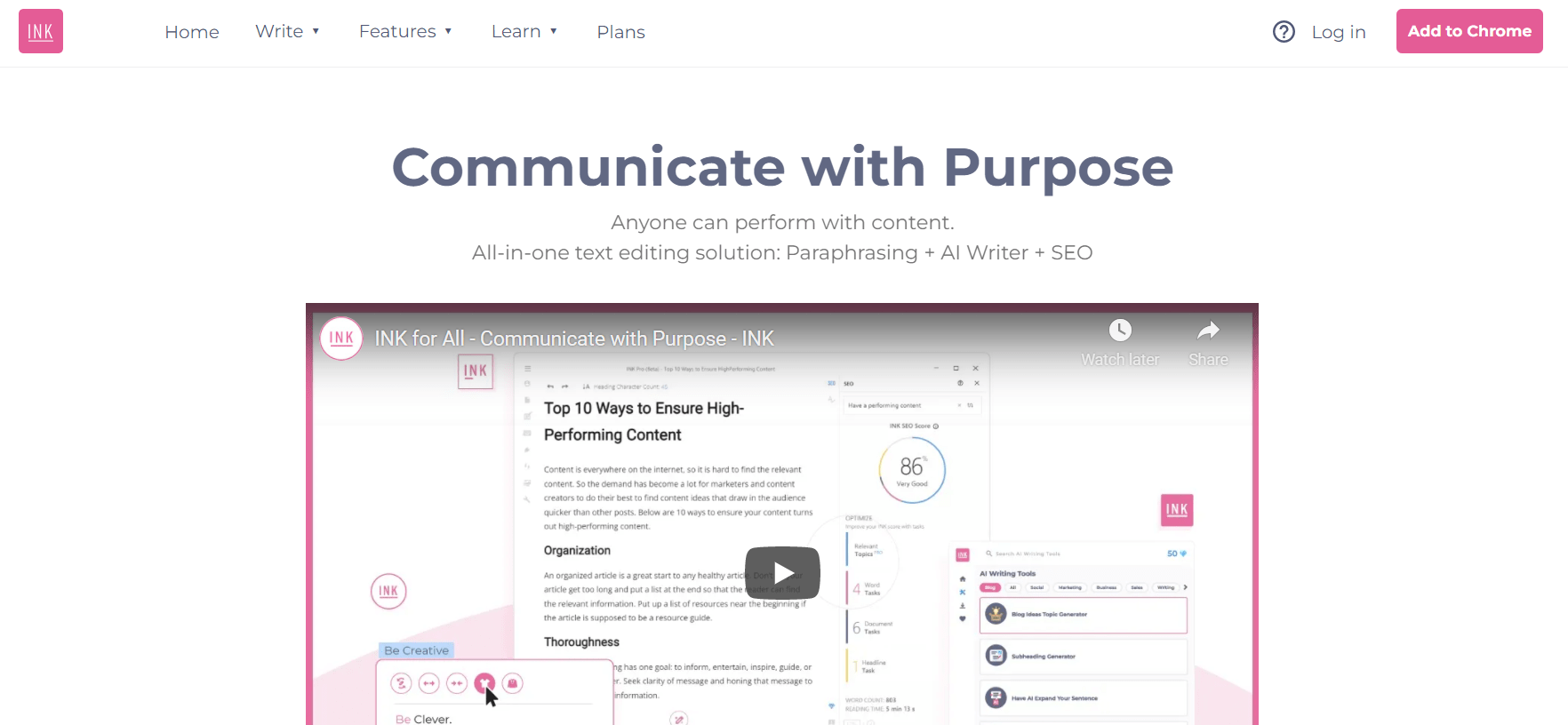 INK is the best AI software for writers who want to produce more content in less time. This software takes the help of SEO practices with artificial intelligence to produce the desired content. INK editor comes with an SEO scorecard where you can check the SEO score of content provided by the tool. This tool is also efficient at giving topic suggestions writing meta titles, meta descriptions, and length recommendations.
INK Pro is a dedicated editor without any distractions like ads. As a brand, you collaborate with your writers with this AI writing assistant to produce the highest quality content for your audience. Besides content writing, INK can also reword, simplify or expand sentences. The co-writing features of INK Pro are powered by GPT-3, allowing users to create content pieces that are as good as a professional writer's piece.
Features
Accessibility modes for people who are dyslexic or colorblind

Focus functions that remove distracting elements from UI

Dark Mode, which isn't common in many artificial intelligence writing software

WordPress integration, allowing you to post content directly to your website

SEO features image optimization, meta descriptions, and topic suggestions

Grammar and spelling suggestions for error-free content

Readability analysis to find how easy to read the content is

Tone check feature for the evaluation of emotional tone of content written

Ensures proper formatting so that content looks attractive
Pricing
INK offers a free pricing model, which allows users to write upto 10 articles a month and score upto 25 blogs for SEO purposes. On the other hand, there's a pAId pricing model which costs $8.80/month. INK also offers a PRO UNLIMITED plan which costs $44/month. 
#3 Grammarly
Grammarly is one of the most-preferred AI-powered and best writing software for novelists, professional writers, and businesses. Its primary purpose is to make your content easy to read, free of grammatical errors, and concise. The tool is mainly used for correcting spelling mistakes and grammar errors, but it can also be used for various other purposes. 
Grammarly highlights the wordy sections of a blog, suggesting what needs to be removed or shortened. While it's not the best writing enhancement software, its advanced AI-powered punctuation grammar and spelling checker will provide you with helpful suggestions you can follow to improve your content's quality. 
In addition to writing suggestions, Grammarly also provides plagiarism checking feature, which is very handy when working on long-form content. The best part is that you can conveniently integrate Grammarly with almost all popular word processors like Google Docs.
Features
Spelling and grammar suggestions for concise and accurate content

Tone analysis to ensure consistent delivery of the message

Smooth external integration into tools like MS Word, Facebook, Google Docs, and LinkedIn

Plagiarism detection to ensure originality of the content

Sentence structure and word usage suggestions

Advanced Readability metrics

Multiple-language support, i.e., British English, Australian English, Canadian English, and American English

Works on smartphones, window PCs, and Macs

256-bit encryption for any type of document
Pricing
Grammarly is among the most economic writing assistants in the market today. It has a free version that provides users with basic writing suggestions. On the other hand, there's a premium plan which costs $ 12.50 /month and includes clarity, tone, and style improvements. You can also go with a Business plan, which costs $ 25.00 /month per person.
#4 WordAI
WordAI is an AI writing assistant that generates unique texts and avoids duplicates. It has an API that allows developers to integrate its functionality into their own programs. It has several internal tools to keep control over the generation of your texts. WordAI is known to create better quality content than most other similar tools.
The basic operation of WordAI is quite simple. It first analyzes the text entered in the tool and then generates a unique version by replacing certain words with synonyms. This way, your content becomes plagiarism free without quality being affected in any way possible.
Features
Bulk Rewrite facility to rewrite articles in bulk

API to integrate the power of WordAI into programs

HTML compatible, enabling users to convert texts directly to HTML

Bulk download to bulk export your new texts

Code view allows users to easily edit generated content

Supports a total of four languages that are French, Spanish, Italian, and English

Provided facility of bulk spinning, spinning multiple blogs simultaneously

Convenient integration of tools CopyScape to ensure plagiarism-free content

Capable of Integrating different verbs and tenses for proper grammar.
Pricing
WordAI provides a free 3-day trial facility for new users. However, after the trial ends, users have to purchase the premium plan. Paid packages are $57/month or $27 annually. Besides the premium plan, WordAI also provides an Enterprise package for businesses with a customized pricing feature.
#5 ProWritingAid
ProWritingAid (PWA) is an online proofreading and AI writing tool. It is a grammar checker, plagiarism detection tool, and the best software for novelists. ProWritingAid integrates with every browser and software writer's uses, from Chrome to Google Docs to Scrivener.
On its website, PWA claims itself as a "grammar expert, style editor, and writing mentor, all in one product." ProWritingAid can help you improve:
Word selection, spelling, and grammar errors

A messy or sticky sentence that disrupts the author's flow

Coherence between the use of the present and the past

Empty or unclear words and sentences

Automatic removal of duplicate sentences and words

Use of passive voice and Readability 

And much more
Features
You can use its application or directly from the web

Offers advanced drafting reports

Word limit 500 words with free and unlimited with premium

Word exploration tool to create content for specific tones

Real-time writing score updates

Writers' Resource Library

100% privacy guarantee, making it the

best software for novelists

Real-time grammar and style check

Plagiarism free content with proper alignments
Pricing
ProWritingAid offers a 100% free version, but it doesn't have the features that serious writers need. You can opt for a premium version that costs ₹1100/month and ₹4345 yearly. For lifetime subscriptions, you will have to pay ₹21,945.  
#6 Sapling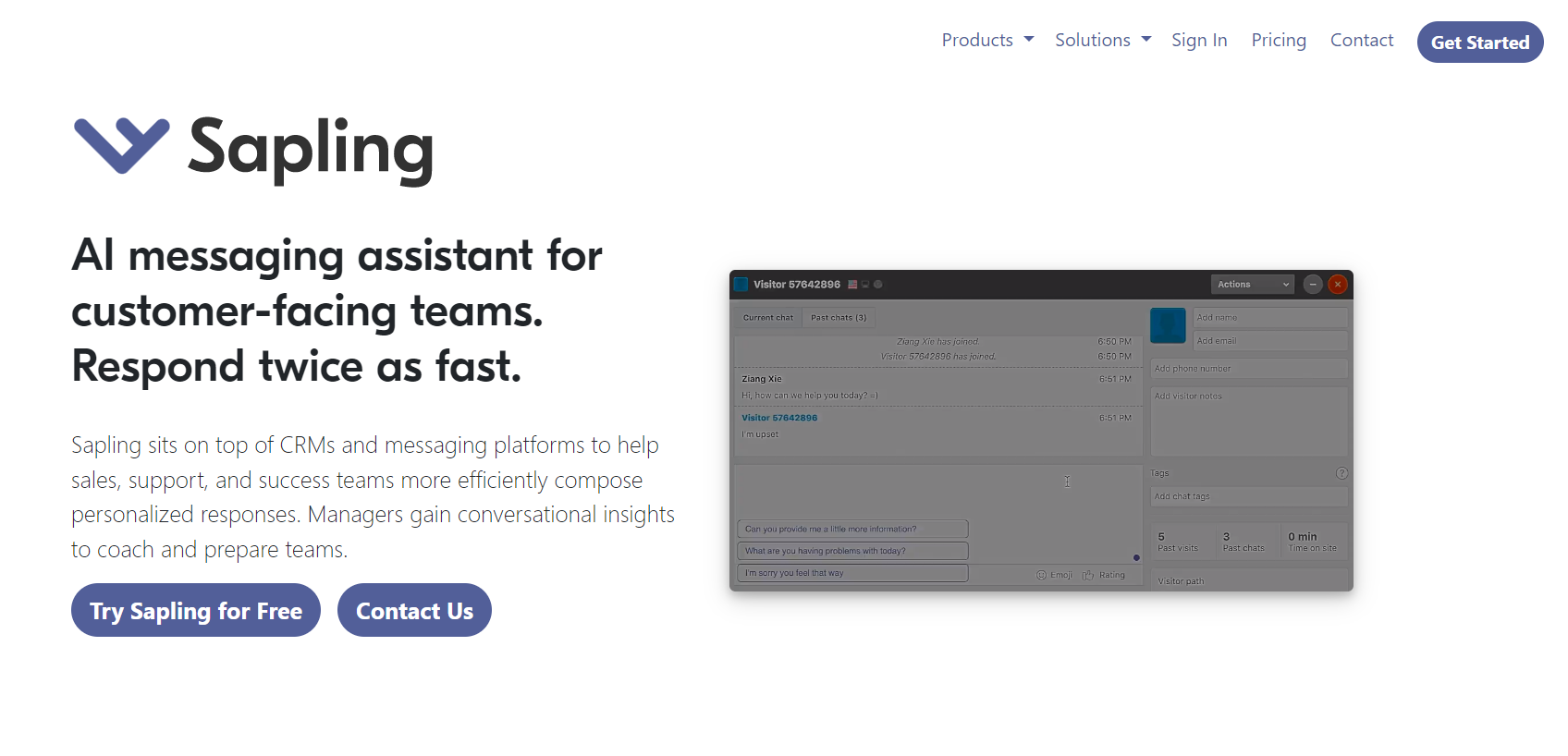 A crucial aspect of customer service is fast and meaningful responses. Sapling is a great AI-messaging assistant which helps you boost your customer response speed. This tool allows you to respond to your customers faster, reducing the wait time. In addition, this tool also helps in improving your messages' quality through language and grammar corrections.
Users can easily integrate Sapling into a variety of tools, such as Twilio, Zendesk, and Salesforce. You can install this tool in just two clicks. In addition, the onboarding process is very fast as it tasks less than 10 minutes for the completion of account setup.
Features
Improves writing through autocomplete, grammar, and spelling suggestions

Uses deep learning AI technology to produce natural-sounding content 

Provides AI-powered suggestions across various messaging platforms and CRMs 

Easy integration with Salesforce, Gmail, Linkedin, Outlook Zendesk, ServiceNow, and more

Users can also Integrate Sapling with their Google Docs through plugins

Fast chat assistance and predictive typing

Query macros and Trigger macros for commonly recurring questions

Offers team and individual reports and Analytics
Pricing 
Sapling provides users with a free version that comes along with 20 snippets, encryption protection, and basic suggestions. Then there's the Pro version, which has various additional features like advanced suggestions, tickets, and email support. The Pro version costs $25 /month.
#7 Outranking
Outranking is a great software to generate content optimized for SEO. It's an advanced best writing software for novelists/brands and a robust research platform to produce high-quality content in minutes. 
This tool uses a one-click method for various of its features, like creating long content pieces, meta descriptions, meta title ideas, etc. It's designed to help users write quality content without the hassle of following any content strategy. 
Features
One-click solution for blog outline, introduction, and conclusion

Able to propose a plan in just 15 minutes

Writes content based on ranking pages

Automating content generation

Integration on WordPress and Google docs 

Able to predict your content's success with an instant SEO score

Offers an analysis of the SERPs

Fact collector to produce factual and accurate content
Pricing
Outranking offers three plans – Mega, Giga, and Tera. Mega plans cost $40/month, Giga plan costs $82/month, and Giga plan costs $157/month.
#8 Writesonic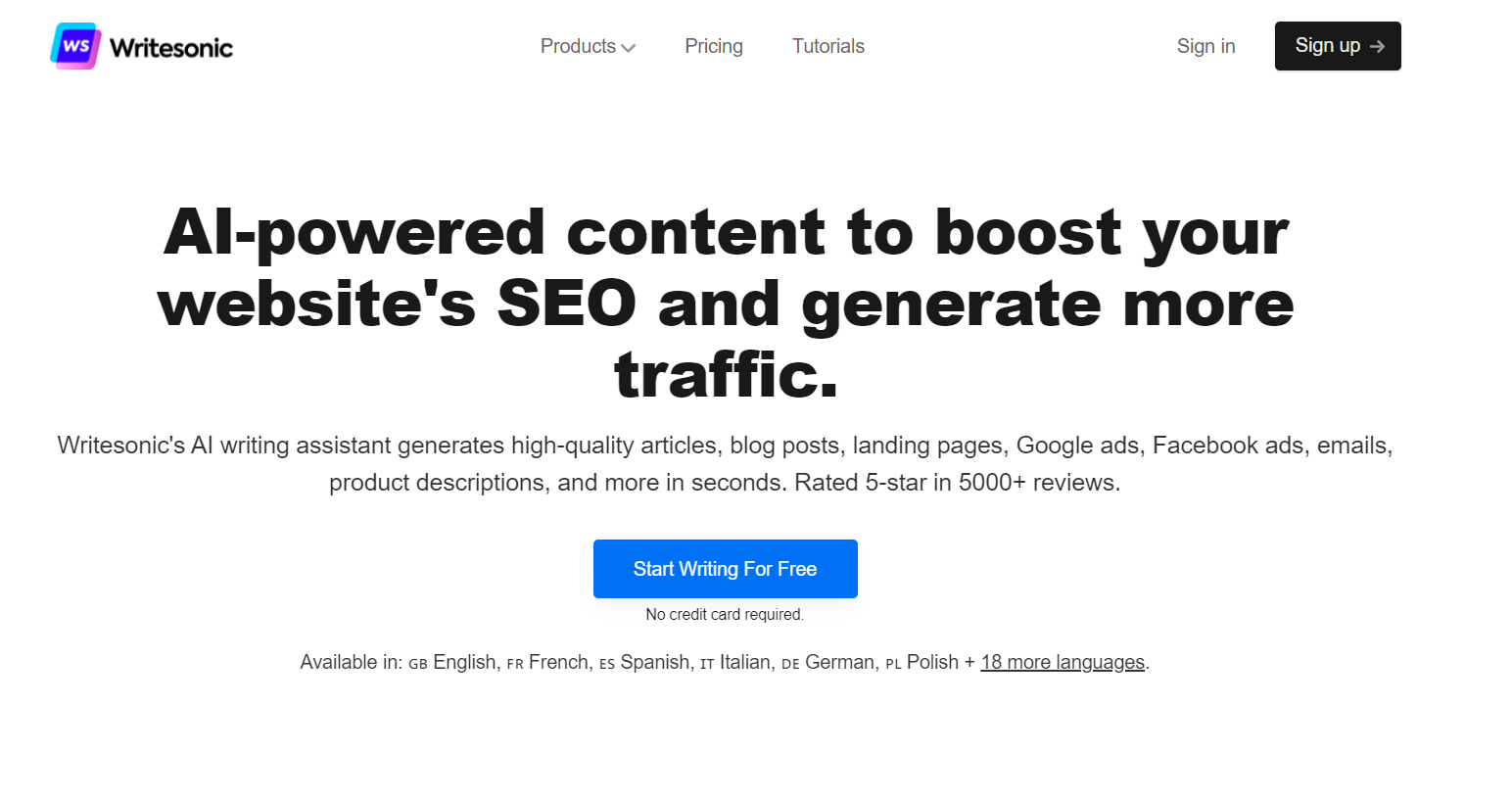 Which is the best writing software? If you need great marketing content, try Writesonic. It's primarily developed to create landing pages optimized for conversion. This tool can help you generate various content such as landing pages, blogs, Facebook ads or ads, product sheets, etc. It's also multilingual (24 languages) and is used by many professionals worldwide.
Features:
Available in more than 20 languages

This software uses AI to generate texts that are guaranteed to resonate with your audience.

AIDA and PAS to vary the content generated for websites, online ads, etc. 

Plagiarism-free content generation: 100% reliable and 100% authentic

Developed with GPT-3, the advanced tool used for Jasper AI also

Production of quality product descriptions, useful to generate more sales

Text editor for editing and writing content

Built-in content templates for various landing pages

In-build grammar corrector to reduce grammatical errors
Pricing
Writesonic offers 5 different pricing plans. The first is a free plan, allowing you to discover the software before turning to a paid offer. Then comes the professional and basic plan, which costs $45/month and $15/month. They both have the same features, but with a Professional plan, you receive unlimited credits.
#9 Rytr
For new users, Rytr offers a free plan whose limit is upto 5,000 characters /month. This plan is perfect for creating shorter content, social media copy, for example. If you have long content and want more credits, you can purchase the Premium Plan, which is called the saver plan, which costs $9/month. In addition to the premium plan, you can also opt for an unlimited package, costing $290.
Features
One of the easiest and

best software for novel writing

available in the market

An easy-to-use interface with numerous guides and responsive support

Developed with GPT-3, the same technology as Jasper powered by OpenAI

Offers AIDA, PAS, FAB, and even more formats

Production of all types of content with native anti-plagiarism check

Content ideation tools that help users in brainstorming

Formatting and editing tools such as improved, shorten, reword and expand

Integration into various word processors, social media applications, and email platforms

Dedicated account managers and priority email and chat support
Pricing
For new users, Rytr offers a free plan whose limit is upto 5,000 characters /month. This plan is perfect for creating shorter content, social media copy, for example. If you have long content and want more credits, you can purchase the Premium Plan, which is called the saver plan, which costs $9/month. In addition to the premium plan, you can also opt for an unlimited package, costing $290.
#10 Scalenut
Looking for the best software for novel writing or content writing? Scalenut is a perfect choice for you. This tool uses AI technology to enhance the content writing process. This writing tool gives users detailed content reports which are based on the target keywords. It helps with SEO as the report includes a number of things such as subheading suggestions, key terms, readability checks, etc.
Scalenut provides a real-time quality check of your content. This way, the tool makes sure you maintain the right voice and tone for your brand. Scalenut can be used for content writing, idea creation, or both, depending upon your preferences.
Features
Competitor analysis and research report according to your target keywords

Common questions are compiled from Reddit and Quora to figure out the user intent

Templates that come in this

AI noval writing software will

help you overcome writer's block fast

Short-form AI tools for blog intros, product descriptions, and topics suggestion

Create Google My Business Descriptions, which will help your brand Differentiate
Pricing 
Scalenut offers three plans that are Individual, Growth, and Pro. The Individual plan costs $29/month, the Growth plan costs $79/month, and the Pro costs $149/month. You can also opt for Annual memberships, which are 60% cheaper than the monthly plans. 
How to Choose The Right AI Writing Tool
Are you confused about which AI writing software to choose? Let's make it easier for you. When you are choosing an automatic article writing software, make sure it contains the following features; because they are real selection criteria:
Error-free Proofreading
A feature that can determine the effectiveness of AI writing software. You will need it, regardless of the type of content you plan to produce.
Multilingual
An excellent AI writing tool supports multiple languages. This offers the possibility to translate content that has already been written. This feature is essential for writing emails, announcements, and responses to surveys with international targets.
Anti-Plagiarism
Your tool should guarantee the generation of unique content, 100% original. Plagiarism-free content isn't only important but necessary. So make sure your tool is efficient at generating such content.
Creativity
The best AI writing software must be creative and able to come up with ideas that are relevant to the user's needs. Content relevance is essential to position the article well in search engines like Google, Bing, Duckduckgo, etc.
Keywords 
The best creative writing software provides users with optimum keywords that can help push the content higher in the search results of the target audience. In other words, your AI writing software should generate SEO-friendly content through well-selected keywords.
Conversion-oriented Content
The quality of the content has a direct impact on the sales or conversion. This is why you should choose an AI writing tool that is efficient enough to create content while keeping in mind the sales perspective of your business. This way, your content would be oriented to have a better conversion rate, resulting in increased sales. 
Future of AI Writing Tools
AI writing apps or tools are an excellent tool to write faster and better, perform research, etc. But what is the future of these tools? Who knows, maybe you will produce a complete blog article with the push of a button, allowing you hardly do any writing part. However, it will take a while before we receive such fast tools. But it wouldn't be surprising if we really got to see them. 
Besides, the question here isn't when we are going to experience such fast and efficient writing technology but whether we actually want it. Are we waiting for all content on the internet to be written by a robot? And if everyone is going to post content written by AIs, will Google put a stop to it? There's no right answer for these questions. All we can say is – Time will tell.
Why Should You Start Using an AI Writing Tool as Soon as Possible?
When it comes to creating written content for your business, you have three options. You can do it yourself, hire an expensive freelance writer, or you can use artificial intelligence content writing software. 
All methods have their advantages and disadvantages. But in the end, the choice is all yours. However, we are sure that you would have liked to go with the third option, which seems a lot less convenient. Let's see what are the benefits of choosing an AI content writing software to help you decide if this tool is actually right for you. As for the benefits of using an AI writer software, there are a lot of them. But we don't want to bore you with a long list of advantages and brag about how useful it is. So here are the top 3 crucial advantages.
The first is that you don't have to spend lots of time creating your own content. All content can be created by the tool within just a few minutes.

The second advantage is that most AI writing software avAIlable these days is easy to access. You can access your tool from your computer, tablet, or phone. Because it runs on cloud-based software, you can also access the written content from any device.

Finally, the most important one, an AI writing software saves time and money! On the other hand, outsourcing content from a freelancer or specialized digital marketing agency is a lot expensive as well as time-consuming. However, with writing software, you don't need to hire a content writer. You'll have your own AI to create amazing content for your business that your audience will enjoy consuming. 
What is The Purpose of AI Writing Software?
The use of AI writing software is widespread today. It is, in fact, an excellent solution to generate written content without much use of human intelligence. To create content, the tool uses artificial intelligence and writes a piece of content according to users' expectations.
This tool automates content creation, and the results are awe-inspiring. Indeed, the content produced is not only of quality but is also relevant and unique. In other words, an automated article writing software is a "robotic" application that uses different technologies to help you create high-value content.
The absence of plagiarism is an essential point when it comes to content creation using AI. Just as it can avoid plagiarism, it can also avoid grammar mistakes and spelling errors. Sentences and ideas are concise and clear to provide good readability. 
All this makes it possible to generate attractive content capable of generating more leads. This is why major brands today do not hesitate to use this tool. Some good reasons that should encourage you to use this type of software:
They can generate content in just a few minutes. So you can generate content 10 times faster.

It can be used by a company or a freelance writer.

It's great to overcome writer's block.

Offers a wide variety of pre-made marketing texts.

AI writing tools are capable of generating content with a high conversion rate.
Final Words
All these software seem convincing if we look closely at their features. Nevertheless, some surpass others, but Jasper AI is the best right now in the market. You can try it out and share your experience with us in the comment section below. 
Besides, when you are choosing an AI writing tool, don't forget to compare various tools. The pros and cons should also be seen up close. This way, you'll purchase the best AI writing tool for your business.