Google Sites Website Maker – Here's Why You Should Use it in 2023
 Every minute nearly 175 websites are launched on the internet. So imagine what will be the count for the day. It will be in thousands, right?
In this era of easy access to the internet, everyone wants to take their business online. There are many benefits associated with shifting from the offline world to the online world full of opportunities. The foremost thing you need to take your business online is a Website. To get a full-fledged website ready to launch, you have two options. One is to go for hiring a website developer or make use of available website builders.
With various website builders available, it has become easier for even a naive person to build a website from scratch. But which one to choose? The answer to your question is Google Sites. It's a simple, creative, interactive and easy-to-use website builder. All you need to do is drag and drop, be creative, and add some text and images to get a website ready in minutes. Sounds interesting, right?
In today's blog, you will learn what google sites are and how to create a google site by following a few steps and some related faqs. Let's get started without any ado.
What Do We Mean By Google Sites?
Google has answers to your every query, and guess what? Google can help you with website creation too. They have a specific CMS for it, i.e. Google Sites. Owned by Google, Google sites allow you to build a free website and customize it completely. Google sites are more like a CMS where you can host your domain and customize the site template per your preferences. If you do not have much, but even a little understanding of the science behind building a website, then using the Google sites template will be a cakewalk for you. Use it to your leverage and get introduced to the online business world.
Over the years, the Google sites dashboard has gone through several changes. The earlier classic version reminds us of Google Docs. The current version is ideal for business owners or entrepreneurs looking to create a website. Moreover, as a non-business owner also, you can create free websites using Google sites. Even now, there are many professional-looking sites live on the internet which are made using google sites. Isn't it great?
We know what you are thinking. The next question lingering in your mind is definitely this – how much the website creation process will cost me? Are there any hidden fees associated? Can I afford it? And many more. Relax down, take a breath and proceed to the next section. We have answered all your answers there.
Does Google Sites Cost Money?
The good news is that creating sites using Google Sites is completely free. You can get your site ready in a few minutes without spending a dime. Isn't it exciting?. It certainly is. Plus, since it doesn't have pricing tiers, you get all its features for free.
You get 15 GB of storage with every google account. If the space gets filled up over time, you can purchase more space anytime. Also, there are no packages listed on google sites. All the features and templates are accessible free of cost. What else can you ask for?
You might be thinking, okay, alright, the google sites are free to use and are versatile enough. But how to create a site using google sites maker? Don't fret; we discussed the same aspect in the next section.
How Does Google Sites Website Builder Work?
Whether you are searching for how to use a google site or how to make a website for free on google, we have covered it all in this section. Without any ado, let's move ahead with the steps:
First things First, open Google Sites. The google sites page looks like the following screenshot.
Now, you have two ways to get started. Either begin a blank site or make use of the templates given. It's all up to you how you wish to proceed. To create the site from blank, choose the following shown option.
On the other hand, if you want to pick any template and edit it, then go to the Templates gallery feature and click on it to see all the different types of templates available on Google sites. Look at the following screenshots to understand how to access the template gallery.

If you have picked the template, making the changes is easy for you. But today, we will learn how to create the google site from scratch. All the steps listed after this one apply to even the templates.
Begin with giving an appropriate creative name to your website. On the top-left corner, find the section to put an appropriate name.
Moreover, if you want to add a logo, then also google sites provide you with a feature to do so.
Enter the title of the first web page. Click on the Your Page Title box to edit the title, and you will also get a list of options to edit the text.
Take the cursor to the header to see a list of other options. Have a look at the below image. You will see the Delete icon on the left side, allowing you to delete the whole header. Moreover, two other options will also be available, i.e. Change Image and Header Type.

Check at the bottom of the header; you will find two more options by the name Change Image and Header Type. You can either upload or select an existing image as the header using the change image feature. Similarly, the other option Header Type, when you click on it, an array of 4 options opens up, i.e. Cover, Large Banner, Banner and Title Only. Start clicking on them to see the changes reflected in real-time. Later on, select the one which you like. For more clarity, check the following screenshots.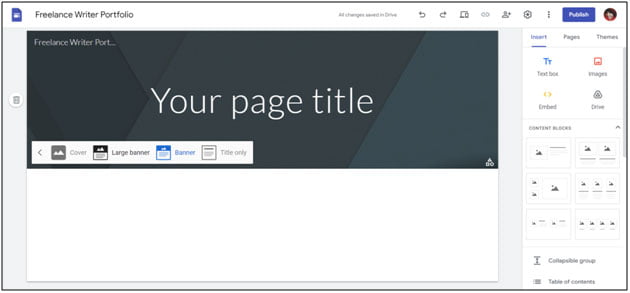 On the right-hand side, you will see three options that go by the name – Insert, Pages and Themes. For now, let's explore Insert. Under this option, you get an array of options to insert different things into your site. The options range from the text box, images, content blocks, buttons, divider, docs, slides, and forms to social links and many more. It's such a versatile option, and it has everything you need to build a free google site in a matter of a few minutes.

Next is Pages. All the pages you have added on the site appear in this section. Find the Plus button at the bottom and hit on it to add a new page.
The next section is Themes. This section allows you to change the website's theme and make alterations such as font style and colour. Moreover, you can also import a theme if you already have one.

Under the custom option in the themes section, you will find two icons, i.e. Create and Upload. By using the Create option, you can create a theme from scratch and using the Upload option, upload the theme which you have purchased or downloaded.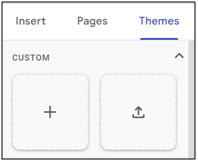 In the themes tab, you will find different themes having names such as Simple, Aristotle, Diplomat, Vision etc. Under every theme name, you will find different colour boxes in a circle shape. Select the colour of your choice, and it will reflect the theme colour. In the end, you will see a bucket-like icon; it allows you to pick any other colour apart from those given.
Finally, now is the time to Publish The Website. The Publish button is available at the top right corner near the profile picture. Click on it, and a new dialog box will open, as shown in the second screenshot. Choose the appropriate web address; the URL will be like this – sites.google.com/view/yourwebaddress. Using the Search Settings option, you can request search engines to refrain from showing up your site online. If you turn on this feature, your site will show up per the settings in the who can view my site section.
Look at the above screenshot, and if you want to manage Who can view my site, click on MANAGE, and a new dialog box will open. If you want to add only specific people who can view your site, add their email to the Add People and Groups text box. Don't forget to have a look at the general access settings. Once you have made all the changes, click on Done.
In the custom domain, click on MANAGE, and a new dialog box containing a list of options will open. By accessing the custom domain option, you can set up a custom domain which goes like http or https://www.yourdomainname.com/ . Below we have given a brief about every option listed in the custom domain, manage setting:
Navigation: The mode option allows us to decide the position of the navigation bar and, using the Color option, pick the colour of the navigation bar.
Brand Images: You can upload a Logo and Favicon using this option.
Viewer Tools: In the viewer tools option, you will see the info icon and anchor links option.
Analytics: In the Analytics section, put the google analytics tracking ID and then enable the analytics. Once you have set it up, you can see everything related to traffic in Google Analytics.
Announcement Banner: It shows above the site content. In this section, you get different options such as show banner, banner colour, announcement message, button label, link, open in a new tab and visibility. An announcement banner is used when you want to share some announcements with the viewers.
Once you have made all the changes, hit the Publish button to launch the site and share your business with the world.
While creating your google sites, make sure you explore every feature available. This way, you can create a nice, appealing, easy-to-use website your target audience would love to visit. Also, don't forget to add features like the Call to Action, Contact Us option and much more. To help you better, we have shared below some google sites tips with you:
As now you have already understood how to create a google site, let's make it more compelling. In order to make your site stand out, ensure everything is in place, right from the Call to Action to the Navigation Bar. To help you better, we have jotted down some tips below:
Google Site Tips: Must Follow For All
CTA buttons in place – Having proper CTAs on the website persuades the visitors to take action. If your motive for creating a google site is to drive sales or grab their attention, then to add CTA is a must. Along with adding the content or copy, ensure you add CTA also. CTA can be a button taking your visitors to the contact us page, download page, query form etc.
Excellent Navigation – Your website's navigation must be simple, easy to follow, smooth and visible. Try not to make it complex for the viewer. Also, it's up to you whether to use a top bar or sidebar navigation. The simple purpose of navigation is to ensure the visitor can access any page without any trouble.
Contact us page – It is certainly one of the must-have pages on every website. Through the contact us page only, the visitors will contact you to avail of your services. Make sure you have added the proper email address, working phone number, proper address and links to social accounts. Always give your visitors multiple ways to contact you for a better experience.
Leverage Google tools – You can include different Google tools while creating google sites. In the insert tab, scroll down a little to find different options such as Docs, Slides, Sheets, Forms, Charts, Calendar etc. Click on the one you wish to add and proceed with the next steps.
Table of contents – Ensure enough content on the website and the respective pages linked to it. The Table of Contents page makes it easier for the viewers to locate what they are looking for. Also, focus on keeping the scroll as small as possible.
Use all the above-listed google sites tips to develop the best site in every possible way. Moreover, are you still not convinced and wondering whether google sites is a good website builder? In this section, we have answered your query.
Is Google Sites a Good Website Builder?
Honestly, there is nothing such as good or bad. The answer to the above question depends upon how you use google sites to create a website and how adept you are at using it.
Additionally, if you have just entered the world of the internet and are trying to create your first website, google sites are an ideal choice. It's free, versatile, easy to use, and has several integration options.
If you have more questions, then for you, we have added a FAQs section. Let's begin with it.
Frequently Asked Questions
How to upload files to my google site?
Uploading files to your google site is as simple as boiling water. Open the website in the google sites dashboard, move to the Insert option, and select what you want to add. After adding, hit the publish button in the top right-hand corner. Moreover, google recommends first uploading the files to its related apps, such as sheets, slides, docs etc., to improve the website's loading time.
Is Wix Owned By Google?
Just like Google sites, Wix is also a website builder. The difference is that it's more versatile. It allows users to create responsive websites in an instant. Regarding your question, the answer is that Wix is not recognized as a full-fledged google product but is owned by Google.
Moreover, Wix relies on the search engine google for the functionality of its sites. Also, it's easy to integrate a website made in Wix with the google products such as Google search console, Google workspaces, Google analytics etc.
Are Google Sites Going Away?
The good news is that Google Sites aren't going anywhere. If anything is going away, then that is the Classic Sites version. On January 30, 2023, Google permanently discontinued the right to edit the classic sites. To ensure your site stays live, your classic site will auto-migrate to the new version of google sites. You can even do this process manually.
How to make money through my google site?
Well, there are innumerable ways to make money from your google site. Moreover, the answer also depends upon the type of business you do. For example, let's say you sell products through your google site; then, you can earn money by selling the products and through google adsense.
Display ads on your google site using Google Adsense and place the ad codes where you want to show the ads. You can show the ads in the top banner, sidebar, directly onto the page etc. To match the ads with the theme of your site, you can customize the ads. Whenever anyone clicks on the ad, you will earn some bucks out of it.
Final Words – Get Started Right Away
Until now, you must have understood how easy it is to access google sites and create a website. Google sites are undoubtedly easier to use, interactive and have almost every required option. Even if you have no technical knowledge, google sites allow you to create a website without any trouble.
You may ask if several other website builders are also available such as Wix, Shopify, Squarespace etc. But still, google sites stand out as the best if you want to create a free, ready-to-use website without spending a dime. While creating the website, if you face any trouble, don't hesitate to contact us.