Regardless of the industry type, no business can survive without customers. Therefore, companies that want to grow in the market must build great customer relationships. In addition to building them, maintaining the customer relationship is equally important. One of the most efficient methods of improving customer-brand relationships is by introducing a CRM. 
| | | | | |
| --- | --- | --- | --- | --- |
| CRM Name | Rating | Cost  | Mobile Compatibility | Free Trials |
| Freshsales | 9/10 | Medium Cost | Yes | Yes |
| Salesflare | 8.5/10 | Low | Yes | No |
| HubSpot | 9.4/10 | Free | Yes | Yes |
| Zoho | 9.5/10 | Medium Cost | Yes | Yes |
| Monday.com | 9.5/10 | Average | iOS and Android | No |
| Pipedrive | 9.5/10 | Medium | Yes | Yes |
| Salesforce | 8.5/10 | Higher Cost | Yes | Yes |
| Creatio  | 9/10 | Low | Yes | Yes |
| Freshworks | 8.1/10 | Low | Yes | Yes |
Key Takeaways
Choosing a CRM could be a hassle of a task. Considering factors such as the company's objectives, offers that sellers provide, user compatibility, etc., you can make the overall selection process less overwhelming. 

The internet is flooded with CRMs. Today we have shared with you the top nine CRMs that are efficient and value for money. Each of them offers a wide range of features, helping you manage customer relationships in the best way. 

You might ask what made us include these nine CRMs in our list. We haven't shared any random CRM with you, but a deep analysis was performed during the selection process. While making this list, we have considered factors such as cost, efficiency, features and onboarding time.
CRM really important to build good long-term relationships with your customers.  It's the key to success for any brand. But building customer relationships is one of the toughest business tasks. Introducing CRM into your business can make your job pretty convenient. It will help you manage your clients in the best possible manner. 
When we talk about implementing CRM into a business, the choice of options is quite long. The market is flooded with dozens of CRM software's. Having so many options in front of our eyes leads to confusion about which one to choose. 
In today's blog, we'll explore the top nine CRM software you can try in 2022. Before moving on to the list of CRMs, let's explore some basic yet important details about the technology. Here we go!
Points to Keep in Mind While Choosing Best CRM Systems 2022
A CRM tool enables businesses to centralise and analyse customer data to improve customer satisfaction. But for some people, choosing the best CRM software is an overwhelming job. For them, here are some key points to consider when choosing a CRM tool:
Note The Needs And Objectives of Your Company
Choosing CRM software is like recruiting an employee. Such a decision must be based on the needs and expectations of the company. So, make a list of your requirements before getting started with CRM shopping. 
Ask yourself, for example, how you want to improve your relationship with customers and the goals you need to achieve to achieve it. Such questions will help you determine the right features your CRM should have to satisfy your customers.
Appreciate The Offers Available on The Market
Nowadays, there is no shortage of CRM software! Due to this, it has become difficult to make the right choice for a CRM. What you need to do is analyse the market and compare the different offers that brands offer to you. 
Use the internet and look for CRM providers that can offer maximum discounts and additional benefits. If you are getting a chance to save yourself some money, don't miss it. There are so many providers offering a variety of deals. All you have to do is find them!
Choose a Software That is Easy to Adapt
Integrating a CRM into your organisation will change some well-established practices. This detail is to be taken into account when making a choice of CRM. We recommend you to invite the company's operational departments to express their real needs. Choose a software that can accommodate their requirements and have a simple and welcoming interface. The more accessible and intuitive the ergonomics, the better the software will be adopted.
Our Top Picks For Best CRM Software 2022
Choosing the ideal CRM tool for your business is a time-consuming and complex process. To simplify it for you, we have shared the top nine CRMs below. Go check them out!
#1 Freshsales
Release date: 2010
Headquarters: California, USA
Operating systems: Android, iOS, Mac, windows
Deployment type: cloud-based
Language it supports: English
What's Freshsales?
Freshsales is the best CRM for startups, offering a wide range of tools to simplify your brand's sales operation. The platform allows its users to track their customers' activities – from when they enter the website to when they get converted. 
Moreover, Freshsales comes with an AI technology that helps create custom reports, personalised follow-ups and automated emails. Furthermore, this CRM also has a mobile application, which makes it easier for your employees to manage customers better. 
Pros of Freshsales
Easy to operate user interface

Creates automatic sales sequencing

Integrates easily with Gmail account, supporting automated emails

Highest quality customer support services

Inbuild email, chat and phone services
Cons of Freshsales
Users can encounter issues with the reporting system

There is no direct O365 integration

The proposal generator isn't highly efficient

#2 Salesflare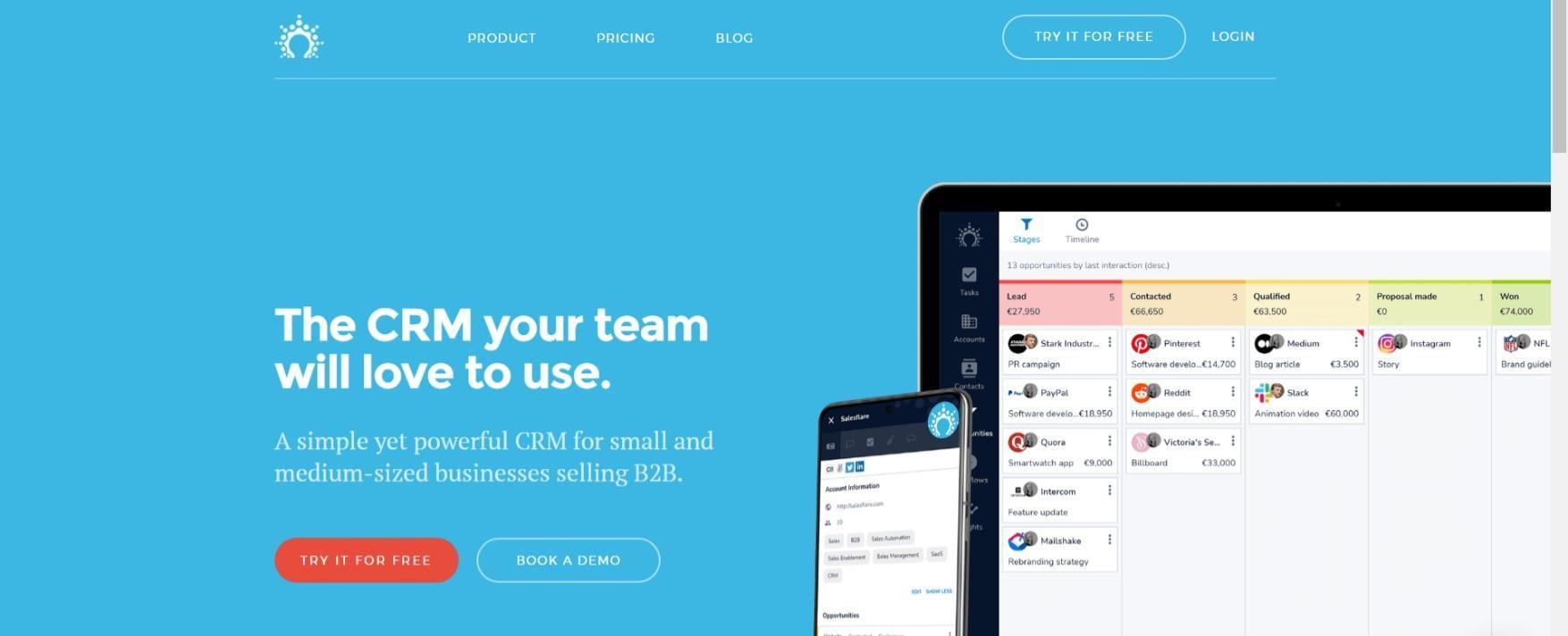 Release date: 2014
Headquarters: Antwerp, Flemish region
Operating systems: Windows, Linux, Mac, IOS, and Android
Deployment type: open API and cloud-hosted
Language it supports: English
What's Salesflare?
For small businesses and startups, Salesflare is the best CRM software to get started with. This CRM offers powerful insights and visual pipelines to users by collecting various data from company databases, social media, etc. It also provides automation facilities for emails, timelines, address books, etc. 
Since it's an AI-based tool, the platform automatically creates a record of informations like LinkedIn profiles, emails, etc., of employees. Moreover, this CRM can also integrate conveniently with a wide range of Professional tools.
Pros of Salesflare
Exceptional automation features

Reduce the time for data entries by 70%

The quality of customer support remains the same doesn't matter which plan you are up for

A team of experienced developers are always available to guide you on technicalities

The AI offers excellent task-based suggestions
Cons of Salesflare
There is no free plan to try

Doesn't have any phone support

Limited customisation options

#3 HubSpot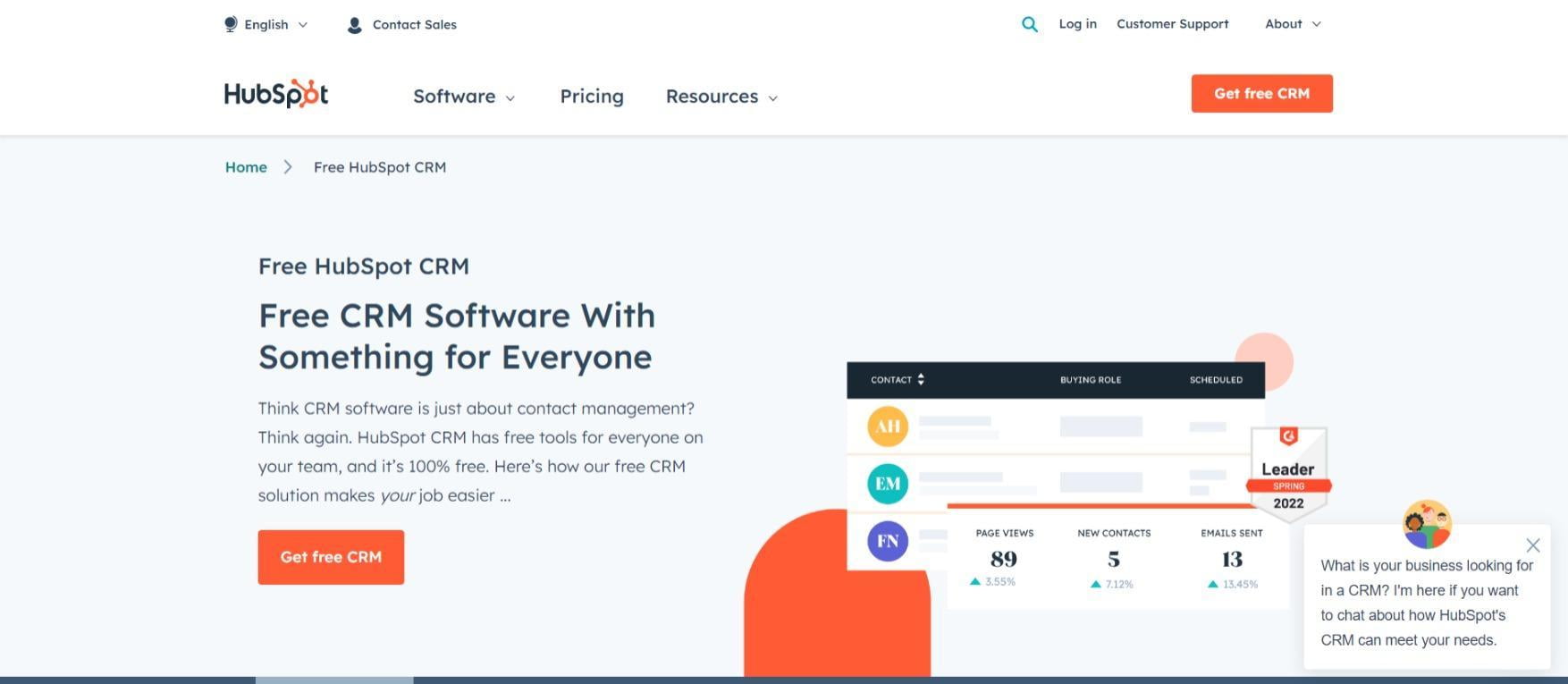 Release date: 2006
Headquarters: Cambridge, Massachusetts
Operating systems: Mac, iPhone, Android, Windows, Linux
Deployment type: cloud-based
Language it supports: English
What's HubSpot?
HubSpot is one of the most popular CRM options available in today's market. It's simple, easy to use and offers a wide range of facilities. For example, with the customisation and task boarding features, users can synchronise their companies' marketing departments pretty easily.
This CRM also comes with an excellent capability to integrate with your brand website, email account and company's cell phone. Moreover, you can manage your pipelines in the best possible and transparent manner. Furthermore, since every activity is automatically recorded, users can access their client's information in one dedicated place. This is a lot of time.
Pros of HubSpot
The Core version of CRM does not cost anything

Users get notifications about customers' activity in the real-time

Automatic followers are sent to customers after a conversation

It's easy to create personalised email sequences for existing and future customers with this CRM

Comes with all google features such as calendar, Google Drive, and Gmail.
Cons of HubSpot
Cannot send multiple emails to different companies at once

The free version does not offer all the potential features

No auto updating facility on SideKick

#4 Zoho
Release date: 1996
Headquarters: Austin
Operating systems: Mac, iPhone, Android, Windows And Linux
Deployment type: SaaS and Cloud-based
Language it supports: it supports 28 languages which include English, French, German, etc.
What's Zoho?
Zoho is one of the oldest customer relation management software, available in the market for more than 15 years. It's an omnichannel platform which helps you connect with your customers across various channels. The CRM offers sales automation tools that help efficiently manage accounts, workflow potential leads, etc.
The best part about it is you get a customisable dashboard which you can personalise depending on your choice. Also, it uses the power of AI to compare, contrast and then derive insights from multiple data sources. These insights help you make the right decision regarding your marketing strategies and campaigns.
Pros of Zoho
The easy and fast onboarding process

Advanced security features such as audit logs, IP restrictions, encryption, etc.

Customers can be managed at any time using the mobile app

Flexible pricing system without hidden costs

Premium users get 24-hour customer support
Cons of Zoho
The free edition is only limited to upto 3 users

Users with the free version cannot access the premium customer support

There is no on-premise solution

#5 Monday.com
Release date: 2010
Headquarters: Tel Aviv-Yafo, Israel
Operating systems: iPad/iPhone, Mac, Android and Windows
Deployment type: Open API and cloud-based
Language it supports: English
What's Monday.com?
Monday.com is another wonderful CRM option that you can consider trying out. It allows users to manage crucial customer information, such as interaction with websites. The AI of the platform analyses such information to create useful insights. The primary features of this CRM include session management, advanced account permissions, audit log, etc. 
Besides, its automation feature is what the CRM is best known for. You can automate approximately 100000 actions every month. Besides, you are provided with a clear overview of employee performance, processes and sales. 
Pros of Monday.com
it offers a wide range of feature

The dashboard offers a customisation facility

The CRM has advanced search capabilities

Time-tracking, private board features and a simple chart view

The clean user interface of the website
Cons of Monday.com
There's no free plan 

Toggling between multiple projects is tough

Customer support could have been better

#6 Pipedrive
Release date: 2010
Headquarters: Tallinn, Estonia, and New York
Operating systems: Web-based, Mac, iPhone, Android, Windows and Linux
Deployment type: Cloud-based
Language it supports: English
What's Pipedrive?
Pipedrive is a popular CRM software that was built with the intent to receive maximum output with minimum input. CRM is known for its superb email integration and efficient sales pipelines. In addition, there's a mobile version of this CRM. 
It can be used to manage clients and employees simultaneously without worrying about location and time. The dashboard is completely customisable and supports multi-environment. Besides, the import and export speed of data is impressively fast. 
Pros of Pipedrive
User-friendly platform due to simple UI

Multiple pipelines and easy email integration

Users have the power to customise their dashboards

Flexible in terms of graphics and modifications

Price is cheap compared to other CRMs
Cons of Pipedrive
There's no provision for sending emails from a PIPEDRIVE

Poor automation facility with no customisable reports

Extra charges for additional features such as phones, email, etc

#7 Salesforce
Release date: 1999
Headquarters: The Landmark, San Francisco, California
Operating systems: Web-based, Mac, iPhone, Android, Windows and Linux
Deployment type: Cloud-based
Language it supports: English
What's Salesforce?
Salesforce is the world's top CRM software that provides the best-class customer management services. It offers markets and communities for leads and sales acquisition. Moreover, unlike other platforms, the ability to integrate with email and other business applications is excellent in this CRM.
Salesforce uses AI technology to forecast customer actions, which can be used to improve marketing strategies and email campaigns. Besides, one of the most underrated yet highly useful features it offers is analytics, chatter and real-time visualisation. 
Pros of Salesforce
It offers the personalised dashboard

Software navigation is clean and super easy

Users can integrate it with social media platforms for better customer understanding

It's a cloud-based CRM, so the last thing to worry about is the loss of data

The business automation feature makes overall customer and employee management easy
Cons of Salesforce
The customisation can turn pretty expensive in no time

Package upgradation can become a problem as sometimes many functions go invisible

The technical support team isn't up to the mark

#8 Creatio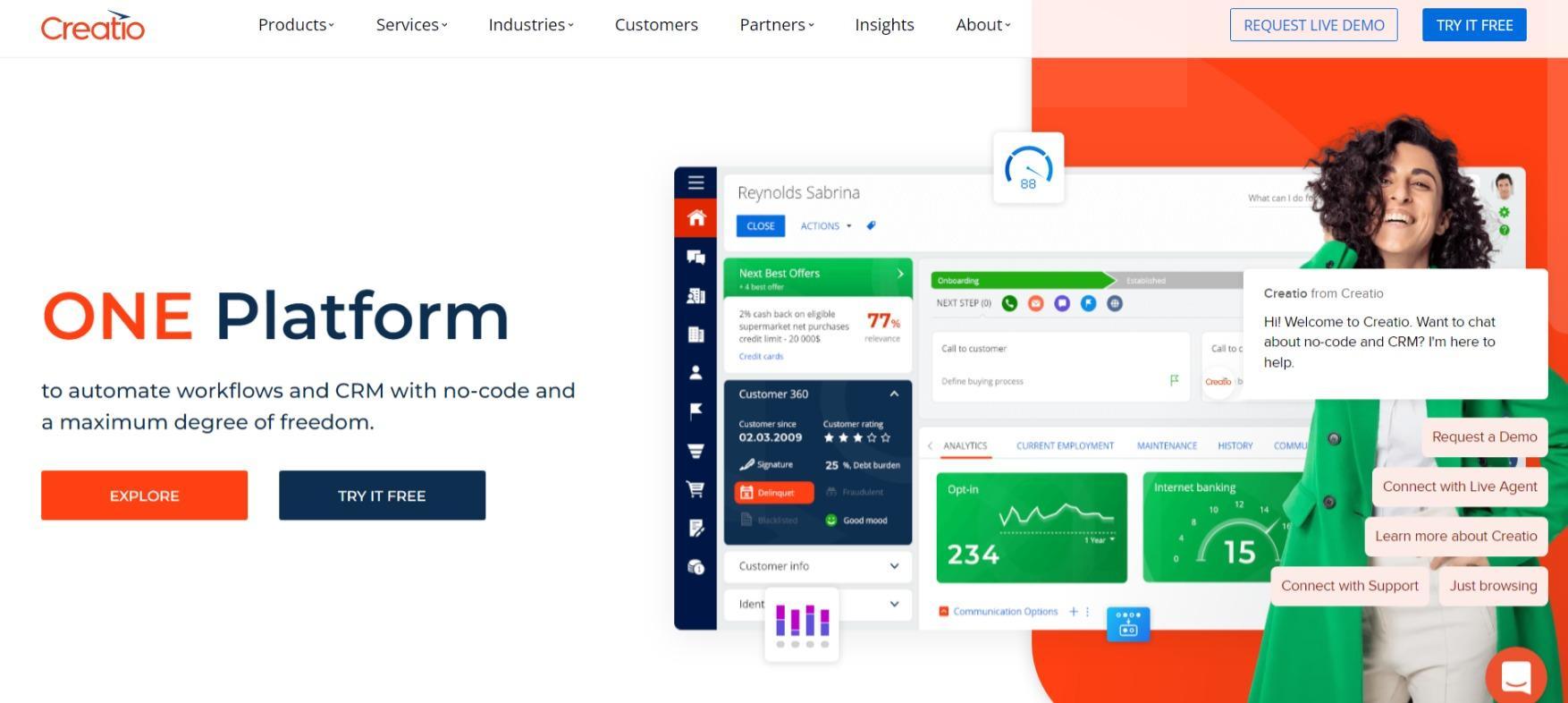 Release date: 2002
Headquarters: Boston
Operating systems: Web-based, Mac, iPhone, Android, Windows and Linux
Deployment type: on-premise and cloud-based
Languages it supports: English, Spanish, Dutch, Italian, German, etc.
What's Creatio?
Creatio, earlier known as BPM online is the most agile customer relation management software in today's market. It's ideal for large and midsized businesses to boost marketing, sales, and other business operations for maximum customer satisfaction. Its excellent capabilities are powerful yet user-friendly.
The platform supports cross-functional orchestration and multi-environment compatibility with Android and iOS applications. Using this CRM you can get a 360 view of your customers, which will help you put your marketing efforts in the right way. Besides, it's great software for sales management as it's known to promote business growth in the long run.
Pros of Creatio
Customer-friendly user interface with a wide range of useful features

Excellent sales support team

The automation feature is really powerful

White range of features that promote lead management

Direct access to 360° customer view
Cons of Creatio
Customer support isn't efficient compared to the competitors

It's difficult to debug, and you are in a custom zone

The dashboard is not as good as other CRMs

#9 Freshworks

Release date: 2020
Headquarters: San Mateo, California
Operating systems: Web-based, Mac, iPhone, Android, Windows and Linux
Deployment type: Cloud-based
Language it supports: English
What's Freshworks?
Freshwork is one of the latest CRM on today's list. It was released in 2020 and has obtained the top ranks in a very short period of time. It's the best pick for brands that want to monitor customers' sales activities and their teams' performance. Using Freshwork, users can create personalised activities and then define their outcomes accordingly. 
In addition, you can also manage your business transactions in multiple currencies by enabling automatic currency conversion. Besides, this CRM is a wonderful choice for a brand because of its ability to create custom modules. Creating a custom module is simple, and you can capture additional information about your customers without any extra effort.
Pros of Freshworks
You have the features to set reminders for follow-ups and tasks

Keeping track of new deals and potential leads is simple

The process of creating a sales sequence is hassle-free

Excellent speed for importing contacts and business accounts

Easy sharing of reports and dashboards with other users
Cons of Freshworks
Limited options for fonts in the email templates

Data analysis for huge data sets is tedious

No facility to send bulk SMS
These were the top nine customer relationship management software you can choose from. All of them are highly efficient and will get the job done just like the way you want. Try the free versions of the CRMs first, if available, and decide which one to go with in the long run.
Remember, it's not a race going on, so take as much time as you want. Just make sure your end choice will offer you an adequate return against the time and money you invest in it.
On What Basis, Dhymi Digital Selected CRMs?
Now you might have this question in mind – "On what basis have we shortlisted these nine CRMs". Well, we did the hard work and found the nine CRMs to be most suitable for businesses of any industry and type. Here are some of the many factors or basis upon which we made the selection:
The Cost
Cost is an important factor that almost every business considers when looking for a CRM. We evaluated the above options on the basis of how each of them is going to cost you. To be more precise, the focus was to include only those CRM that is worth spending upon. So that's how we came up with these Four in terms of value per cost.
Efficiency
We know that efficiency is something that every brand looks for in its potential CRM. So when we were evaluating these nine CRM, we paid huge attention to how efficient they were indeed. It turns out all of them are highly efficient and get the job done just the way you want it to. So the last thing you need to worry about with today's list of CRM is low efficiency because that's not going to happen. 
OnBoarding Time
Onboarding time is another integral factor we considered while shortlisting today's list of CRM. All of the CRM mentioned today are known to offer a smooth onboarding process. In addition to that, you won't encounter any time-consuming formalities during the onboarding phase. The onboarding time for all the CRMs is short, which is a really good thing.
Number of Features
Whenever a business invests in a CRM, they expect to receive a considerable amount of features. You might, too, of course, want the same thing for your brand. The reason why the above CRM are in the list of top 9 is due to their impressively long list of features. Just think of a feature, and you will get it in any of the above options. 
Final Words
Choosing the right CRM for small business or a large/medium is time-consuming and overwhelming. We did the hard part for you and shortlisted the top nine CRMs above. All of these are wonderful choices, handpicked by experts. Learn about each of them in detail and then finalise one for the long term. Choose one, choose the best!