It's no mystery that video is quickly gaining popularity as the most efficient means for distributing content and growing an audience. Due to the high Internet and cellphones, people are viewing more and more videos on the internet. YouTube is an easy choice for video content providers looking for a low-cost home for their videos as well as a simple option for them to be noticed.
You're undoubtedly always looking for new and beneficial techniques and tools to improve your YouTube publishing experience if you post videos online, especially on YouTube. You want more viewers to see your videos, sign up for your newsletter, and even buy your goods or services. TubeBuddy might well become your closest buddy.
You have come across TubeBuddy if you have done some research into YouTube Optimization, expanding your YouTube channel, or gaining more views. Some YouTubers are even claiming that TubeBuddy will become the no. 1 software to grow on Youtube.
TubeBuddy is a tool that can assist you with this. It is unique because when you put a tag, it quickly suggests top related search terms, and you can then select which TubeBudddy tags are Appropriate to your video.
It has several great features that have been proven to help you improve your channel. The YouTube dashboard provides access to all of the features. TubeBuddy also has a browser extension, so you don't have to swap between tools to reap its advantages.
This article will mainly focus at TubeBuddy to recognize if it's the best tool for YouTube progress. First, let's have a closer look at Tubebuddy's benefits and why we need it before jumping to the features section.
What is TubeBuddy?
Like a video-sharing platform, YouTube has always been a preferred destination for many marketers. Besides this, at Youtube, you can grow to some small extent only if you do not have the right tools to help you grow your business.
TubeBuddy is one of those tools which can be downloaded free of cost from the official website. Tubebuddy's chrome extension will be added to your list of extensions. Later, you just need to sign up at Tubebuddy's official website and start growing your YouTube channel.
As we all know, Youtube is a search engine on its own where thousands of videos are uploaded and watched every day. Therefore, it requires optimization, and it's known as Youtube SEO.
To do Youtube SEO excellently, you need access to tools like Tubebuddy. Aside from helping with SEO score, Tubebuddy provides you with all the necessary features needed to get a deeper insight into your Youtube channel and grow it rapidly. Although the Youtube dashboard has many features, it's not good enough when it comes to doing in-depth analysis. This is where Tubebuddy wins.
Features of TubeBuddy
TubeBuddy includes a built-in Keyword tool that assists you in determining the relevant keywords to include in your videos for them to appear at the top of the search engines results pages. It offers a free plan as well as a wide range of paid plans with additional features that are mentioned below.
Keyword Explorer – Search for keywords using Keyword Explorer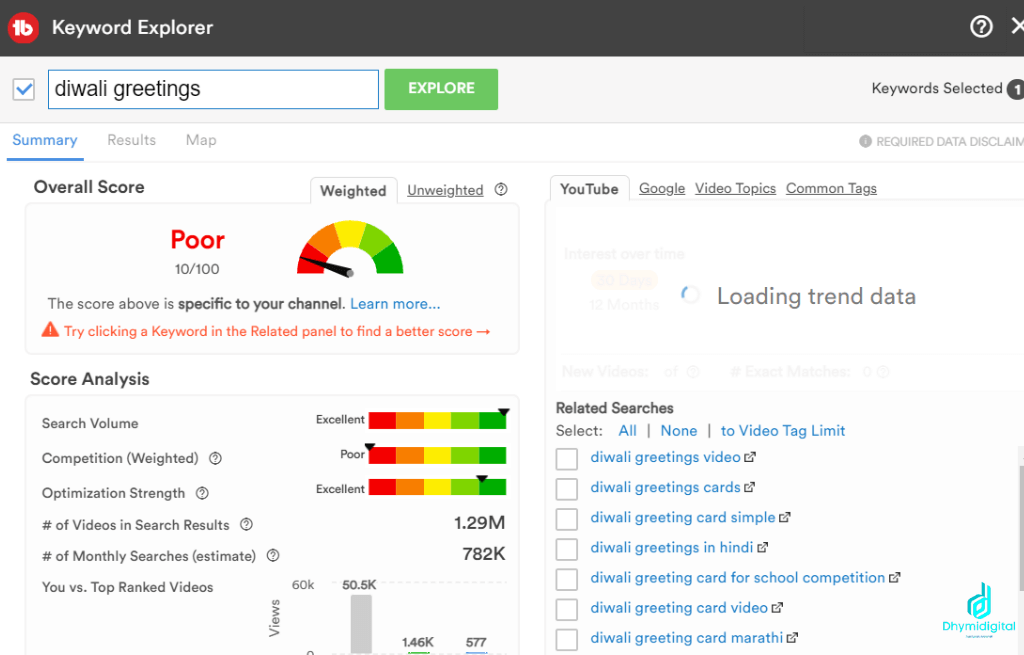 Keyword research for YouTube videos has now become easier with the use of TubeBuddy Keyword Explorer.
You can view how frequently search queries are made, how successful in the market the search term is, and how well the highest-rated videos are optimized, all of which can help you decide whether to target that particular keyword or look for one that has a better chance of ranking.
The keyword explorer also assigns you a rating out of 100 to aid in your comprehension of the analysis; the higher the score, the better your possibility of ranking.
While doing keyword analysis, the search bar auto-suggest utilizes the same terms as the YouTube auto-suggest. You don't even have to switch between the Keyword explorer and the YouTube search bar; the results are similar.
The Google trends results for YouTube searches are displayed under the YouTube tab, and trend data from Google searches is viewed under the Google tab. This data can assist you in determining if the video concept is still workable or has lost favor.
You can also check whether a video carousel appears in search results by going to the Google tab. If there is a tick box, it means it does, and if you rank very high for the search result, you can also appear actively in Google searches, which can help you get more views.
Videolytics
Are you interested in learning more about TubeBuddy Videolytics? What are some of the ways you can utilize it to help your YouTube channel grow?
You have arrived at the proper spot. In this article, we will go over what the TubeBuddy Videolytics tool is, how it can help you rank on YouTube, and how you can utilize it. Today's Youtube is overflowing with content, and the battle for the first spot is very intense.
So, how do you proceed? You can also add videolytics in your chrome as an extension.
The easy option is to team up with a lifesaving tool like TubeBuddy and take advantage of its features, particularly Videolytics.
Benefits of Videolytics Tool
This is an excellent tool for spying on your rivals. TubeBuddy Videolytics permits you to actively view a wide range of quick channel and video insights on any YouTube video using the TubeBuddy app. Yes, that's true that you can watch any video on YouTube.
Videolytics gives you instant access to all of the important YouTube video data and metrics. This suggests you may get an early start on any YouTube video, whether it's from your channel or one from a competitor.
You may learn how your competitor's video is displayed and how to outrank them by comparing them side by side across a variety of parameters.
Videolytics Feature Breakdown
In the Videolytics panel, there are four separate sections, each of which provides a comprehensive statistical and analytical analysis of each YouTube video. So, let us explore what Videolytics by TubeBuddy has to offer.
Summary Statistics
The first section of TubeBuddy Videolytics is Summary Statistics. It displays the total number of views, comments, and the ratio of likes to dislikes. These figures provide a quick snapshot of how well a given video is performing and what may be done to improve it.
However, keep in mind that the video will receive fewer views in the first few days after being uploaded, so there's no need to be concerned right away.
Search Engine Optimisation
This section on Search Engine Optimization (SEO) presents you with three key SEO statistics.
Primary Statistics
The first row's creator-suggested statistics show how many videos from the creator channel you're watching are recommended in YouTube's suggested section. The greater the number, the more probable it is that someone who watches this video on the channel will also view other videos from the same channel from the suggested column.
If you're familiar with YouTube SEO, you're probably aware of how critical it is for your videos to appear in the suggested area if you want to get more views, watch time, and eventually boost your channel's authority. So, whether you're looking at your video analytics and notice that fewer videos are being suggested alongside your content, it's time to optimize your videos.
The second part displays the number of times video tags appeared in the title or description. This statistic will assist you in analyzing the optimization of your video title and description, both of which can be modified if they are not already optimized. Keep in mind that it must be a word-for-word match for it to be counted, as Youtube reads it that way.
Finally, the Ranked tags are displayed. This is the number of times your video tags appear in the search results. This is very important because it displays which of your unique tags are ranking wherein the search results.
Secondary Statistics
Secondary statistics provide you with a color-coded assessment of a specific statistic.

The red color indicates poor performance and so demands significant improvement.
The black color denotes mediocre performance.
The color green denotes above-average or outstanding performance. As a result, it's best not to make any more changes to it.

Social Reach
The third area, Social reach, displays the number of times your videos have been shared on various social media platforms such as Facebook, Reddit, and Twitter.
Videolytics takes it a step further and connects you with the specific person who shared your YouTube video. It displays a popup sign that, when clicked, leads you to the relevant site, where you can like or thank the person who shared your video, allowing you to interact with the outside community.
Channelytics
Channelytics, like videolytics, provides you with some helpful data about a channel in a brief look. This is relevant for assessing competition channels, as well as viewing how many videos they've posted in the last month and what channel tags they've added on their channel.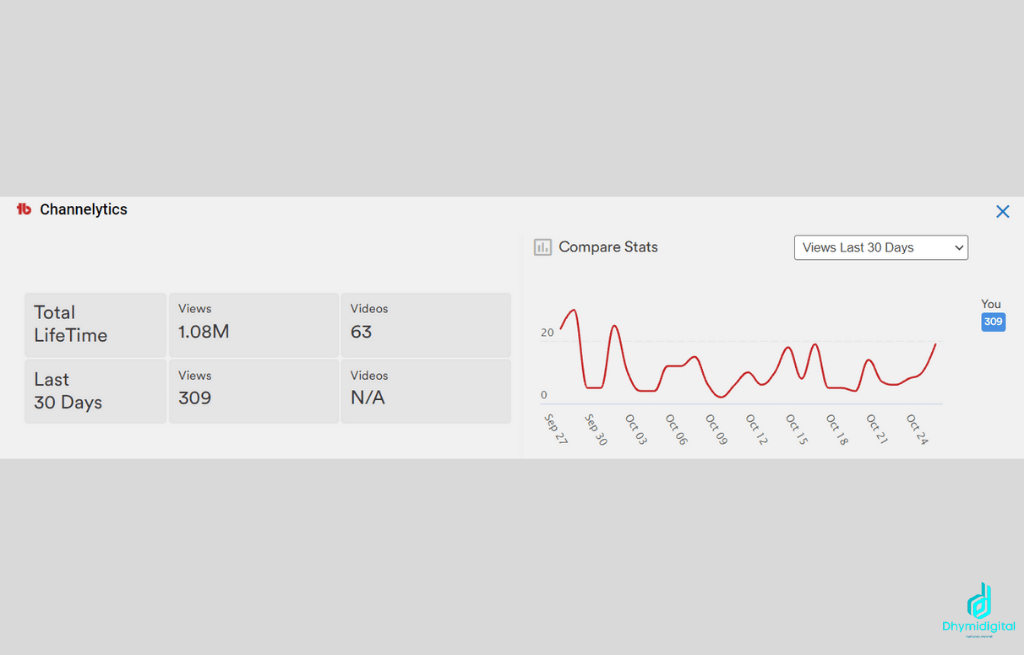 It enables you the option to use its Channelytics tool, which provides a more in-depth and extensive look at channel analytics, at the top right side of this area.
Options for Embedding
If you've ever used a YouTube channel to promote your business (YouTube channel management), you're well aware that the options for embedding videos and playlists are severely limited. TubeBuddy, on the other hand, offers you a plethora of options-
The potential to make your embedded videos look different.
You can use force-closed captioning in your video.
You can turn off the play controls.
Make damn sure your videos play in a loop.
JavaScript API should be enabled.
Publish Your Content On Facebook
You can instantly publish videos from YouTube to your Facebook account or business page, as per this feature.
This is a fantastic tool. Previously, you had to copy and paste the YouTube link when sharing a YouTube video. Alternatively, you could go back to Facebook & then re-upload your video.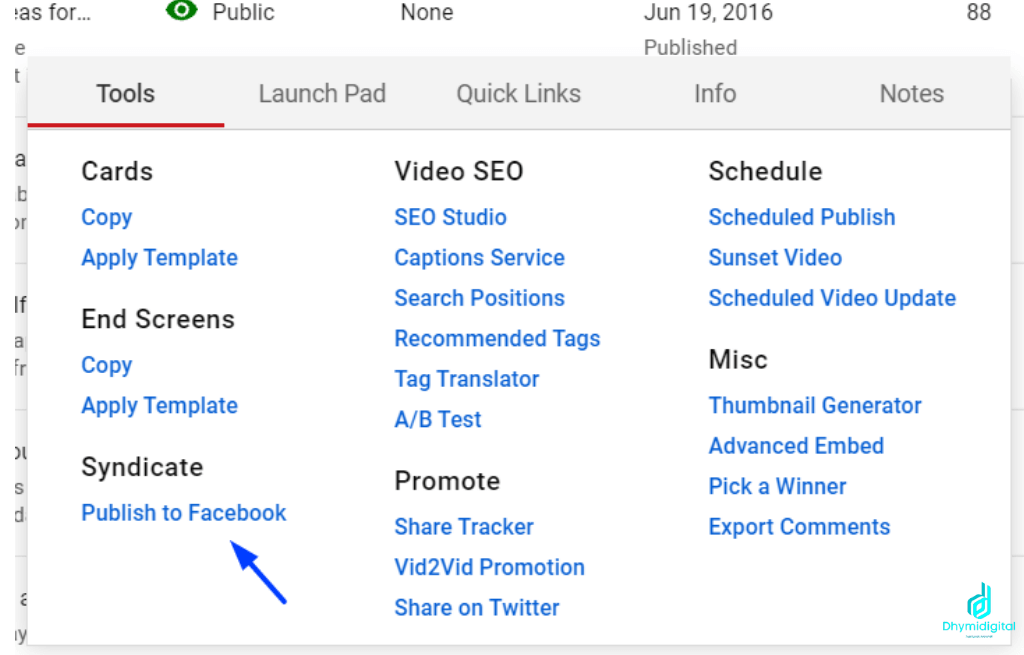 TubeBuddy, on the other hand, enables you to publish your video as a native Facebook video instead of a YouTube video, which is not suitable in either case. You'll also have access to Facebook video features like auto-play.
Toolbar for Quick Editing
It is difficult to modify multiple videos in a playlist at a time without such a tool as TubeBuddy (bulk update). Normally, you'd have to switch back and forth between individual videos to make those changes, all while memorizing where you left off.
TubeBuddy's quick-edit toolbar, on the other hand, allows you to tap on each thumbnail of the video you like to edit and make improvements.
Formatting of Comments
TubeBuddy lets you format your responses while reacting to comments on your YouTube channel.
So that you can-
Make your texts of a particular section bold.
Italicize your text.
Underline the important words.
Add Emoticon from the emoji collection.
All of these small features significantly improve the user experience.
Emoji Picker Tool
Emojis are a quick and easy way to distinguish your video titles from the crowd. You have a 50% probability of gaining a potential viewer to browse your original clip if you catch their attention.
To use TubeBuddy's emoji picker, simply click on the emoji icon next to the title box and select the emoji you want to use. Isn't this a simple task? Yes, it is!
Emojis, like pictures, communicate better than words. The emoji picker eliminates the need to use an additional dialogue box to add emojis into your title, video description, video tags, or post comments.
GIFs Generator Tool
This feature allows users to create a GIF to use within a particular section of an upload, as the title implies.
Filtering Tool for Comments
You'll start receiving more and more comments as your YouTube channel expands. Struggling to catch up with them all can be difficult at times! Find the comments you're looking for with TubeBuddy's comment filter. The dropdown menu will display you with the following types of feedback:
Specific queries in the form of comments
Positive feedback
Negative statements
Replies are disabled for comments
Profanity-laced comments
Tool for Exploring Video Ideas
Viewers occasionally leave requests for video content that you should cover in the long term in the comments section.
If you agree with their viewpoints, you can vote for them by clicking the TubeBuddy icon below the comment. Choose "Add as Comment Suggestion" from the dropdown menu. Under the "Comment Suggestions" tab, you can return to it at another point in time.
Opportunity Finder
The Opportunity Finder is a computer-assisted tool that gives ideas for improving your videos.
Auto-Translator Tool
This feature is preferable for any company that caters to a worldwide reach. This ensures that audiences can read the titles and descriptions of your videos in their local languages. The video tags will also be translated into the required languages by the auto-translator.
Scorecard for Competitors
This allows you to keep track of what your competitors are doing on YouTube. You can see what they're good at and, more notably, what they're not so good at.
TubeBuddy's scorecard effectively compares your channel to others so you can see views, collaboration, subscribers, and video uploads. You can also download this as an Excel report, which is useful for tracking changes over time.
Canned Response
At first, the only way to connect with your audience is to leave a comment. The basic principle is that you must reply to every comment you receive. For customer satisfaction and YouTube SEO, how frequently you interact with your audiences is considered.
What if you are receiving the same comments over and over again on your video? In that case, canned response templates allow you to pre-write comment templates and utilize them on your videos. It saves so much time.
Templates for Cards
If you are an experienced YouTube marketer, you are already familiar with cards. They are direct calls to action that you can add to your YouTube videos. You may discover yourself making the same stack of cards for all fresh uploads at times. That's a huge time-waster.
TubeBuddy, on the other hand, saves your time by providing card templates. It works like this: when you make cards for a video, TubeBuddy lets you save those as a card template. After that, you can use that card template in the future when you publish another video. You will find no difference in both videos.
Promotional Description
Internal linking on YouTube refers to putting links to your videos in the descriptions of other videos. TubeBuddy's description promotion feature makes this simple. TubeBuddy can even be used to insert a video link to various video descriptions at the same time. You won't have to append the same links every time.
What does TubeBuddy Do?
TubeBuddy allows YouTubers to spend less time on administrative tasks and more time on creating original video content. TubeBuddy can assist you in a variety of areas, particularly if you have a large or mid-sized channel. If you wish to beat your competitors, improve your ranking, build your channel, and boost your view time and subscribers, we strongly advise you to use TubeBuddy.
Installation of TubeBuddy
As there is an extended version for Google Chrome and Firefox, you must first select your ideal web browser. Then take the steps below to get up to speed. Start creating a TubeBuddy account by proceeding to their website.
Select the 'install free on Chrome' button (or Firefox).
This takes you to the extension store for your web browser.
Now click 'Add to Chrome.'
The TubeBuddy icon will now appear in the top right corner of your screen.
Go to YouTube.
TubeBuddy will help with the process of linking your YouTube channel to your TubeBuddy account if you haven't already done so. After that, check your YouTube dashboard to see TubeBuddy's dropdown menu.
How to Use TubeBuddy
The TubeBuddy mobile app is available for download and log-in.
Your live subscriber count, recent videos, view counts, and other information are displayed on the dashboard. Seeing all of this data in one particular area is extremely convenient.
Your video engagement rate is also highlighted on the dashboard. Take a closer look at all of the statistics for your videos by clicking on them.
You can also see your tags, find which ones are the most popular, suggest and discover different tags, and insert them into your video.
You can view and react to your latest comments on the Recent Comments tab.
The globe icon will gather news articles relevant to your sector.
TubeBuddy Tag Explorer, Topic Planner, Canned Responses, and Tag Lists are all available from the menu. In Tag Explorer, you can search for TubeBuddy tags to insert into your videos. For each tag, the app also displays the search traffic and competition.
The Topic Planner tool enables you to maintain records and organize all of your video topic insights in one place.
You can create canned responses to video comments with the Scripted Responses tool.
You can generate a topic-specific tag list and apply it to videos using the Tag List tools.
How much does TubeBuddy Cost?
TubeBuddy provides various discounts to customers to improve their user – experience. Please select the right TubeBuddy coupon code for which you meet the criteria and save money.
Free plan
To get started, simply download the browser extension and sign up. This plan is ideal for those who require only-
Videolytics
Exploration of keywords (limited).
Language Analyzer
Best Time to Publish
Choose a winner.
Pro Plan
All video creators who wish to take YouTube sincerely should purchase the TubeBuddy Pro Plan. The Pro Plan can help you maximize each video to get you to another level if you have somewhere around 0 to 1,000 subscribers and you've just initiated making money on your channel.
With features like complete access to keyword explorer, this plan is ideal for improving your video tuning.
Default Upload Profiles can be created in an infinite number of ways.
Insta Suggest and suggested tags are available to you in full.
Star Plan
The TubeBuddy Star Plan is preferred for existing creators with a large video catalog on their channel.
If you need all of the features of the free and pro plans, plus bulk optimization tools like bulk description edits, bulk card editing, and so on, this is the customized plan for you. You can reduce time by using the opportunity finder to view what you may have ignored.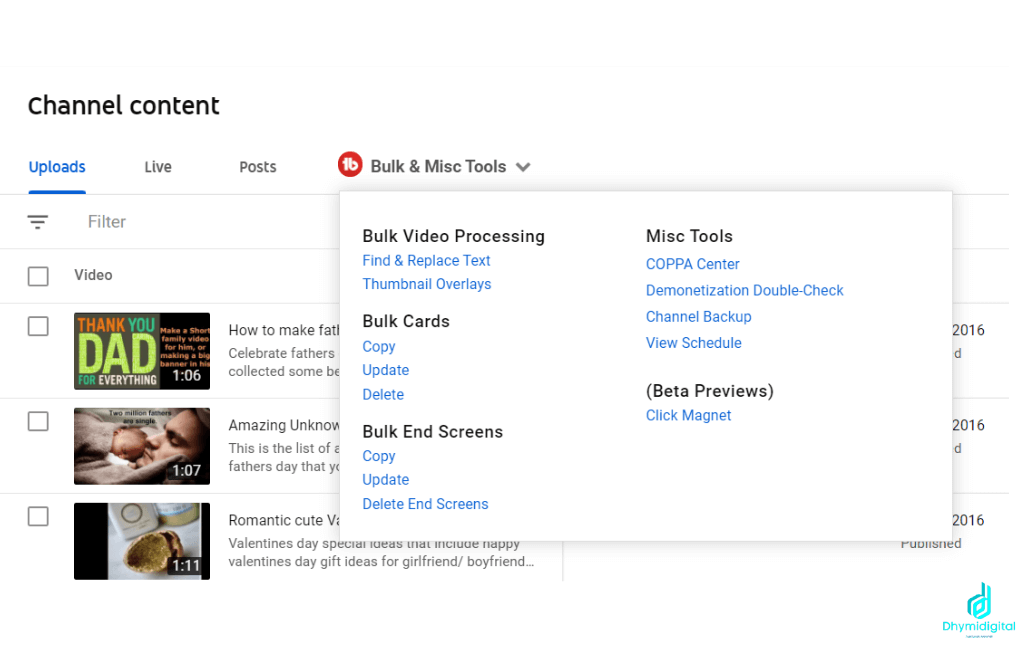 TubeBuddy Free Trial
If you are still unsure about spending money on premium plans, go for the free trial version. TubeBuddy provides a 30-day free trial version. The TubeBuddy free trial version works with all premium plans. However, if you do not deactivate the free trial within 30 days, it will be converted into a premium subscription plan.
Pros & Cons: –
There is no such thing as an ideal tool. TubeBuddy is no exception. TubeBuddy has many features that will attract video marketers, but it also has some restrictions. Here are some of the tool's benefits and drawbacks as reported by users all over the internet.
Pros-
This is a comprehensive tool with a large set of features.
Simple to use with a short experience curve.
Allows you to keep an eye on your rivals.
A free trial is available with a lot of features.
The cost is reasonable.
Cons-
It only works perfectly on one channel.
You will need a special permit for each of your YouTube channels if you have more than one.
Basic plans do not include advanced features like bulk editing.
Customer service is inadequate.
It's difficult to use when switching between you use it for more than two or three youtube channels.
Sometimes the free version of the extension may not work properly.
Similarly, TubeBuddy's best features are available only on premium versions.
There is no Smartphone app available.
How to Remove TubeBuddy
You can cancel TubeBuddy's subscription at any time. You need to follow these steps-
To access your TubeBuddy account, click here.
Go to the Home page by clicking it.
After that, go to Licenses and select "Manage."
Finally, Click on Cancel License.
Frequently Asked Questions About Tubebuddy
Is TubeBuddy a safe option?
TubeBuddy is completely risk-free. TubeBuddy is "YouTube Certified," which implies it has passed Google's official certification process. Other services (competitors) have attempted feature creep in the past, which has resulted in Google cracking down and penalizing accounts. TubeBuddy has more experience partnering with other companies.
Is TubeBuddy worth it?
The free TubeBuddy chrome extension is well worth your time. It is up to you to decide whether one of the plans is worthwhile. If you are already making money from your YouTube channel, the time-saving and keyword search tools alone would be a great investment in expanding your channel.
Tubebuddy Review – Final Thoughts
Now we can conclude that TubeBuddy is a safe tool or chrome extension, as well as a blessing for YouTubers, based on the details provided in this article. Tubebuddy offers a complete platform for content creators and marketers. The tool provides access to the most comprehensive list of all videos available on YouTube and the ability to make custom channels.
TubeBuddy is one of the most widely used YouTube tools, and there's a reason for that. It comes with everything you will need to thrive your YouTube audience and manage your channel. The best part is that it's extremely simple to use.
Tubebuddy makes it easy for you to create engaging and attractive videos that people will love to watch. These in-depth features make it simple for you to manage your YouTube channel and manage your subscribers.
Therefore, you should try Tubebuddy to enhance your marketing strategies and increase your website's search engine rankings!
So, go ahead and use TubeBuddy right now without hesitation to see how quickly your channel grows. And most importantly, with a pro package, if you build your channel and have less than 1000 subscribers, Keyword Explorer will certainly be a great option for you!
Our blogs at DHYMIDIGITAL aim to educate people all around the globe on the best products that you can buy online.
TubeBuddy Review by Dhymi Digital
YouTube is a popular video platform and the second-largest search engine on the internet. Marketers, influencers, and content creators use YouTube to post their videos and build an audience.
TubeBuddy offers tools to optimize your YouTube channel and videos to increase your reach. The channelytics extension of TubeBuddy lets you track your video's SEO rank and analyze your competitors with a single click. Let's review TubeBuddy in brief to understand its functions and advantages.
TubeBuddy is a 100% safe and easy-to-use videolytics tool developed exclusively for YouTube. Furthermore, the tool is YouTube certified. There's no risk of being banned by Google or YouTube for using TubeBuddy to optimize your video channel for better reach.
You can download TubeBuddy mobile app on your Android and iOS devices. Create an account and log in to access the dashboard.
The TubeBuddy tool will be connected to your YouTube account to collect data in real-time and run analytics.
Check the dashboard to get information about the subscriber count, views for recent videos, SEO score, etc.
The TubeBuddy Chrome extensionis used on PCs and laptops to analyze your YouTube videos and your competitors in a few seconds.
Use features like keyword search, tag explorer, topic planner, and scripted responses tool to effectively manage your YouTube channel and optimize it for search engines.
TubeBuddy Pricing 
TubeBuddy has five price plans to suit the requirements of different types of users.
Free:$0/month; Basic plan with limited features and access
Pro:$2.80/month; for beginners and small-time content creators
Star:$9.20/month; for growing content creators to maximize returns from the channel
Legend:$21.20/month; creators and marketers with a large subscriber base
Enterprise:customized plan for companies, agencies, etc.
The company offers a 20% discount on the annual plan.
TubeBuddy Benefits
TubeBuddy is a great video SEO tool for YouTube-based marketers and content creators. It offers the following benefits to users:
Videolytics Firefoxextension
Videolytics Chrome extension
Optimize video description content
Recommends and inserts internal links in the descriptions
Automates administrative tasks to save time
Analyzes competitor's videos and channels
Free trial plan for beginners and newbies
Budget-friendly pricing
Extensive features and regular updates by developers
How can TubeBuddy be Better?
Despite the array of features, TubeBuddy is not without a few flaws. Here are a few areas where the tool can be more efficient and user-friendly.
It can be used with only one YouTube channel per account. This makes it hard for creators with different channels, as you have to apply for permission to add them to the same account.
What Is Dhymi Digital?
Dhymi Digital is a tech blog for technology lovers to access the latest news, information, reviews, and updates about various products/ software/ applications/ devices in the market. We provide technical information in the simplest terms for newbies to gain knowledge with ease.
Sign up and subscribe to our newsletter to get the posts straight to your inbox. Click here.