For YouTubers, apart from creating engaging videos, there is one more thing they need to take care of. It is none other than keeping a tab on the youtube channel analytics. A thorough understanding of channelytics helps you figure out how well your channel performs. Without it, growing the youtube channel and analysing the data is an overwhelming process.
In this blog, we have explained everything about yt channel analytics for excellent channel management. Once you learn how to use channelytics, it will surely turn out to be a game-changer. Let's get to our main topic.
What is Youtube Channel Analytics?
The in-built options in the Youtube Studio are best for analysing data. No third-party tool can come close to the effectiveness of Youtube Studio. From checking the traffic source, watch time, subscribers' age, and gender to content performance, Channelytics has every option. For excellent youtube channel analysis, all you need to do is dive deep into the dashboard. But before that, you must first learn how to read the important statistics and access several options. Meanwhile, let's first understand why to opt for youtube channel analytics and not any other available youtube management tools.
Why to Use Channel Analytics Youtube?
The answer to your question is that it's free. Who would not love to use such a versatile tool without paying a dime? Every YouTuber, right?
Whether you want to check how much traffic the videos are getting, their source, or anything relevant, channel analytics youtube has got your back. You name the feature you wish to have in Channelytics; voila, it already has it. With every feature available on your fingers, use it to your best advantage. What else do you need for excellent channel management and youtube channel analysis? Also, once you thoroughly understand the channelytics dashboard, no one can stop you from soaring high.
How to View Youtube Channel Analytics – Step by Step Guide
Till now, you have understood what a holy grail channel analytics youtube is. As the tool or Youtube analytics has myriad options, using it seems a little sophisticated. A beginner YouTuber will feel overwhelmed after looking at such vast features and options to explore. To save time and effort, here is the step-by-step guide to accessing youtube channel analytics like a pro.
1. First things first, open Youtube on your Desktop. The reason why we said desktop is so that you have a wide view of the channel's main page.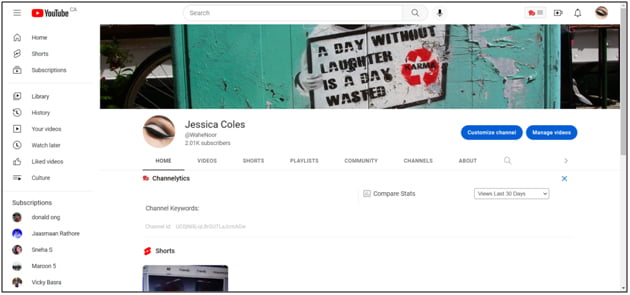 2. Go to the top right corner and click on your channel profile picture. A drop-down menu will open, and in it, click on the second option, i.e. "Youtube Studio".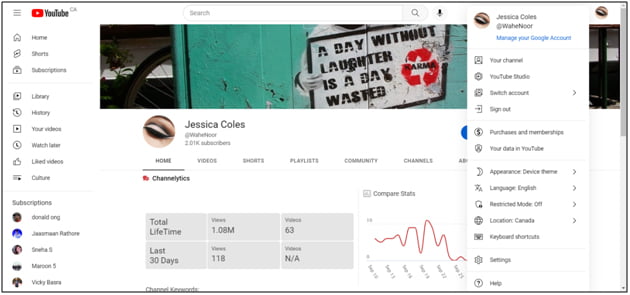 3. Once the youtube studio is opened, go to the ANALYTICS option, also called Channelytics.
4. Once it is open, you will get to see the following four options as of now. The overview section gives you a much-needed glimpse of overall channel performance. It shows views count, watch time and subscribers count based on the timeline selected. If you scroll down a little, it shows the Top Content in the chosen timeline.
To select the date, look at the right side; you will find the option. Under it, you will find a Real Time option which shows how many people are watching your videos and the content performance in the last 48 hours.
5. If you aren't satisfied with the given data, go to Advanced Mode. You will be amazed to find a plethora of useful options there. Check the following image to know where the Advanced Mode option is.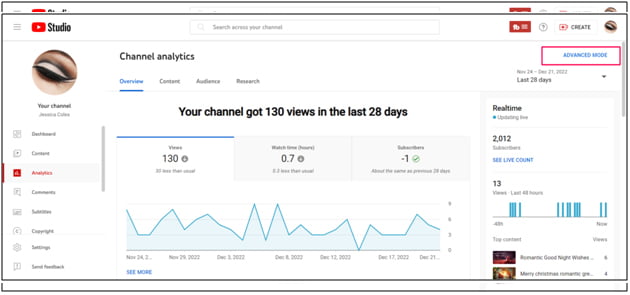 6. After you click on Advanced Mode, a pop-up window will open. It will contain all the sought-after features you need to analyse the channel's performance in terms of everything.
Major options in the advanced mode yt channel analytics are:
Content: In the content tab, you get a detailed overview of the content performance based on the selected timeline. It shows views, watch time, average view duration, impressions and impressions CTR of the videos in the chosen timeline. To perform a more thorough youtube channel analysis, use the filters provided.
Traffic Source:  This tab gives you a clear view of from where the traffic is coming, i.e. The Source. Let's assume your channel video showed up as a suggested video to the viewer; then the traffic source is Suggested Videos. Some popular traffic sources that might appear in your channelytics are suggested videos, browse features, external, playlist pages, channel pages etc. Have a look at the below image for a detailed idea.
Geography: The geography section gives you detailed information about the country your audience belongs to. Have a look at the image below for a better idea. Similarly, the cities tab gives even more detailed information. Rather than the country, it clarifies which area specifically, for example – Pune in India ( for reference, check the second screenshot).
Viewer Age: This gives you a thorough idea about your audience's age range. Along with age range, it also clarifies their number of views, average view duration, average percentage viewed and watch time. The next option in the upper navigation bar is Viewer Gender. It gives a detailed analysis of the gender (male, female and others) of the channel audience.
Date:  This will certainly be your favourite feature. You get date-wise data regarding views, watch time and average view duration in this. Take a look at the highlighted portion in the below screenshot, and use it to change the filter.
Subscription Status:  This option shows out of the total viewers count how many have subscribed to you or who are not subscribed. Let's assume the total views is 1,083,557, out of which Not Subscribed is 1,081,311 and subscribed is 2246. Along with this, the Subscription Status tab also shows watch time (in hours) and average view duration.
Content Type:   As you know, on youtube, we have two primary forms of content, i.e. Shorts and Videos. So this option shows how many views, average view duration and watch time you received on different content formats.
More:  If you think that the youtube channel analytics ends here, you are mistaken. When you go to more options, a drop-down menu with a list of other options available will open. Once you check the options in the more tab, you will understand why we said Channelytics is a versatile tool.
The above options and even the in-built filter are too extraordinary. You will be amazed after checking it (see the below image for reference).
How to Check Other Youtubers' Analytics?
You might be wondering; I have understood how do youtube channel analytics work, but if I want to check other YouTuber's analytics. Don't fret; we got you covered in this case. To do so, you can make use of third-party tools. One such prominent tool is Tubebuddy, which contains a range of tools as per the requirements. To access Tubebuddy Channelytics, follow the below steps:
Go to Tubebuddy's official website homepage. Depending upon the requirement, you can go for the premium version or the free one. The free version is best for a beginner because you will get a hold of different features. Later on, once you understand how to use it, go for premium versions.
Meanwhile, select Install Free Version. The link will take you to the free chrome extension of Tubebuddy. Anyone can install it and start checking the stats.
Once installed, your channel dashboard will look like the screenshot below.
To check other YouTubers' analytics, keep a tab on the channelytics. For example, let's say Mr Beast is your competitor, and you wish to analyse his channel. To do so, go to Youtube Search Bar and type Mr Beast. The youtube search results page will show up. Go to the official channel page of your competitor channel, and channelytics will show up.
In the above image, have a look at the Compare Stats section. For better clarity, see the below screenshot. It has two options by the name You and Them. You is your channel, and them is the competitor's channel.
Aside from comparing the views with your channel, you can even check other stats. For reference, see the below picture.
Get an idea about the Channel Keywords along with the rest of the information. You also get an option to copy the keywords.
For a better idea, check the Videolytics. We hope now you got an answer to your question – How to check other YouTuber's channel analytics? Channelytics is the only tool you need to find out how many videos they uploaded, what channel tags they use, how their channel performs, etc.
Wrap Up 
If you have read all the above steps and information, then we are sure you now know how to use channelytics. Without using any third-party tool, get a thorough idea about the channel in the youtube channel analytics. It is one of the favourite game-changer options of Youtubers. On the other hand, if you wish to perform competitor analysis, then you have the very best – Tubebuddy. Once you become adept at using Yt Channel Analytics, your channel growth is certain.
Make a choice now and see the difference. Happy Youtubing till then.