Discover the top 13 YouTube to MP3 converters. YouTube is one of the best platforms to source music, videos, talks, etc. Being one of the largest homes to music in the world, it has millions of viewers and subscribers in its nest.
If you like streaming YouTube mainly for the audio and are unhappy with how much data you have to spend on videos or the inability to download them offline, a YouTube to mp3 converter can be your best tool. 
Converting the videos on YouTube to mp3 is helpful whether you want to save data, have some music downloaded to your phone, need audio for editing, or listen to podcasts net-free on a drive.
There are various websites and applications that you can use for YouTube to mp3 conversion, resulting in quick, high-quality audio files that you have on the go. However, remember that YouTube's policy prohibits downloading videos off-app, so do it at your discretion. 
What Are YouTube To Mp3 Converters?
Youtube video to mp3 converters are tools, software, applications, and websites that help convert videos on YouTube to mp3 files. By using such tools, you can extract the audio content of your favorite YouTube video and listen to it offline. Most of these YouTube to mp3 downloaders are free of cost.
Features To Consider While Selecting The Best Youtube Video To Mp3 Converters
1.

Safety

Your data safety and privacy are the chief factors you should consider while choosing a converter for YouTube to mp3. You can do this by visiting the website and checking for reviews.

In addition, safer tools look more professional and have minimum ads. To protect yourself from malware, refrain from using websites with pop-up ads and links. 
2.
Conversion Speed
When converting a YouTube to mp3, the conversion and download speed is of prime importance. Depending on the tool's authenticity, a single YouTube to mp3 download can take up to hours.
However, the best YouTube to mp3 software can perform this task within a few minutes or seconds, depending on the quality of the video. This prevents you from hampering any other work and enables the download of multiple videos in one sitting.
3. 
Quality
A YouTube to mp3 download is only worth it when the mp3 file is of high quality, preventing any hindrance from listening to it later. In addition, the converter should offer you multiple qualities for download, according to the amount of space you want to assign to the file. 
4. 
Supported Formats
It is an added advantage if the YouTube to mp3 downloader allows you to convert the YouTube video into various other formats, such as mp4, OGG, FLAC, and WAV, to extend your scope of work and usability. This is especially suitable for paid apps or software. 
5. 
Ease Of Use
With most top YouTube to mp3 downloaders, you can copy-paste the video URL into their website and convert the video to audio in just one click. This makes them highly user-friendly and suitable.
6. 
Limitations
The best YouTube to mp3 downloader apps should allow unlimited downloads and not have a cap on the video length you can convert into an mp3 file. In addition to this, you should be able to download multiple files at once.
YouTube to mp3 music converters are available as online software and downloadable apps. The tools are compatible with multiple operating systems, requiring minimum steps for a high-quality conversion, making them extremely user-friendly.
The Best YouTube To MP3 Converters
Whether you are using a Mac, Windows, or Android operating system, there are several YouTube to Mp3 converters that you can try. Following is a list of the 13 best YouTube to mp3 converters:
1. 
Y2Mate
Y2Mate is one of the most famous free YouTube to mp3 converters available online and as a downloadable app. This user-friendly software is popular for a speedy YouTube to mp3 conversion in a wide range of audio qualities.
To download mp3 files with the help of Y2Mate:
Open Y2Mate

on your browser.

Copy the YouTube link of the desired video.

Paste the video URL on the box and click Start.

Click on mp3 and download the audio in the desired quality.
Pros: This online tool works on all browsers and on Windows and MacOS computers. Moreover, Y2Mate has no cap on the number of downloads. 
This software is quick and easy to use and doesn't require registration, saving you from spam e-mails and hassle. 
Cons: Being a free app, Y2Mate doesn't boast advanced features such as playlists or channel downloads. Moreover, too many ads or malware links are always risky since the app is online.
Pricing: The software is an open-source, free tool. 
Support: The website has a dedicated FAQ section and a contact page.
Learn more about to change YouTube videos category
2. 
4K YouTube To MP3
Another online application, the 4K YouTube to MP3 converter, is user-friendly software for Mac, Windows, and Ubuntu operating systems. The website also has a downloadable app allowing you to download Youtube to mp3 audio directly.
Pros: You can convert and download YouTube videos without registration through the website. The application enables the download of complete playlists and channels in different video and audio qualities. 
The software detects ads and omits them while downloading a video. Moreover, it gives you the option of extracting the audio later on. It also has a built-in music player and browser. With this software, you can also use proxy IP addresses to download youtube videos that are restricted in your area.
Cons: After a trial, you must pay for the full version to access all the features.
Pricing: 4K YouTube to Mp3 has a free trial to download 15 mp3 files daily. After the trial, you can choose between lite, personal, and pro packages, which are $10 a year, and $15 and $45 for lifetime access.
Support: The software has sections dedicated to tutorials and FAQs for using the software. In addition, there is a forum page and support e-mail. 
3. 
YtMp3 Video Converter
YtMp3 is a free YouTube to mp3 converter tool available online. To use the YtMp3 video converter, follow these steps:
Open the

YtMp3 converter

tool on any browser.

Copy-paste the YouTube video URL into the box.

Choose Mp3 and click Convert.

Once finished, click on download.
Pros: This software is also registration-free and lets you instantly convert and download YouTube videos to mp3 audio files. It is one of the quickest software, allowing YouTube to mp3 320 kbps conversions. 
Cons: You can only convert videos of up to 1 hour and not download batch videos. 
Pricing: This online tool only has a free version. 
Support: The website has an FAQ section and a support e-mail where you can contact the team with your queries. 
4. Snap Downloader
Snap Downloader is a YouTube to Mp3 downloader app that must first be installed on your computer. 
Pros: Using this tool, you can download multiple videos at one go after choosing from various resolutions. In addition, the application supports conversion into numerous formats, including mp4, AVI, WEBM, WAV, etc.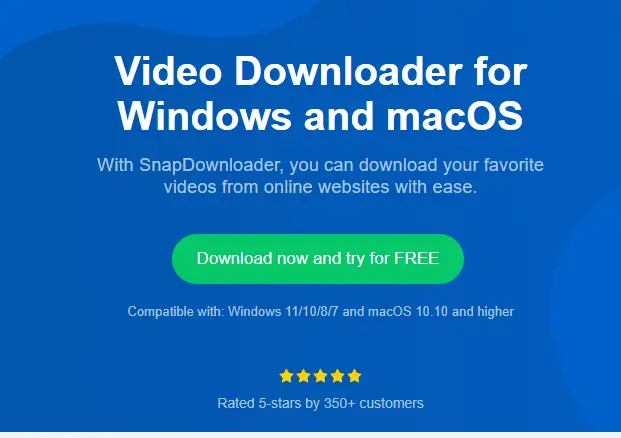 You can convert complete playlists and channels with the help of the app. Moreover, it has a built-in youtube search and is compatible with macOS and Windows. 
With Snap Downloader, you can download up to 15 videos at once and even schedule them. Its high-quality, quick conversions make it a user favorite, especially for professionals who need multiple high-quality conversions.
Cons: The application has a 2-day free trial, after which you must pay a subscription fee for its unlimited downloads. 
Pricing: You must buy plans starting at $7.99 monthly post the 48-hour trial period. You can also choose quarterly or annual plans.
Support: You can visit the FAQ section on the website in case of any doubts or send them an e-mail for support.
5. 
Converto
A free, web-based YouTube video-to-mp3 converter, it is a user-friendly tool that allows easy conversions. 
Pros: Converto is a beginner-friendly, free YouTube to mp3 converter. The tool lets you trim the video before conversion, preventing time and data wastage.
Cons: Being free software, the webpage has a lot of ads running, which can hinder your work. In addition, it doesn't allow the conversion or download of all YouTube videos.
Pricing: This online tool is entirely free to use. 
Support: The free online software has no dedicated support team. But, they do have a written guide on using the web-based service. 
6. 
Clip Grab
Clip Grab is an open-source, downloadable application and one of the easiest and quickest tools to convert YouTube videos into mp3 format audios and download them.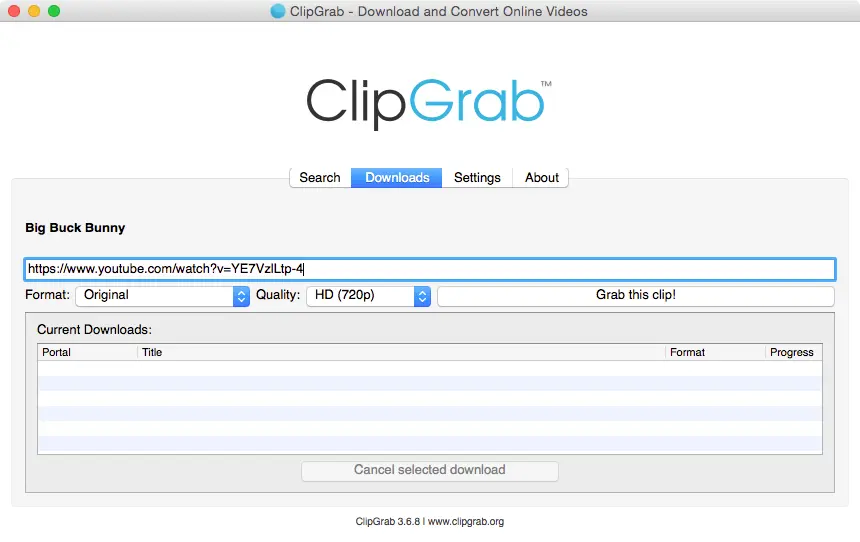 Following are the steps to use Clip Grab:
Visit the

Clip Grab website

and download the open-source tool.

Open the installed application.

Click on the Downloads tab.

Paste the desired YouTube video URL on the box, and choose mp3.

Select the desired quality and click on Grab this Clip! Button to convert and download the file.
Pros: The application offers high-quality audio downloads and can be used on macOS, Windows, and Linux computers. It also supports other audio formats.
Cons: The tool cannot be used with an iPhone and has a lot of ads that can interfere with the working and raise malware threats.
Pricing: The software is free to use. 
Support: The website has a FAQ section and different forums for support. 
7. 
Video Proc
 allows the conversion of YouTube videos to mp3 formats.
Pros: The conversion occurs at ultra-high speeds due to its level-3 GPU acceleration feature. It also allows batch conversion of videos at the same speed. The converted audios have Dolby Digital 5.1 channel surround sound. 
In addition, you can use it for converting and downloading YouTube playlists and channels in 4k resolution. Additionally, the software includes features such as conversion, compression, recording, and editing of videos and audio. 
Cons: You must download the application on your computer for use. Moreover, you need a lifetime subscription to access all features.
Pricing: The paid version with unlimited downloads costs $25.95 a year. 
Support: Customer support for the app is only through a dedicated e-mail.
8. 
WonderShare UniConverter
Launched by WonderShare, UniConverter is among the highest-rated tools professionals use to convert YouTube videos to mp3 files. To use WonderShare, the following steps are employed:
Visit the

WonderShare website

and download the application to your computer.

Install the software.

Click the plus icon and paste the YouTube video link in the pop-up.

Choose the format and audio quality your desire and click on Download.
Pros: Compatible with both macOS and Windows, it has multiple toolbox features that make it stand out and become one of the best YouTube to mp3 converters for Mac. 
These include compression, dating, CD Burning, and conversion to more than 1000 formats. The converter is 90X faster than the average Youtube to mp3 downloader and allows you to merge audio files.
Cons: The cost of the paid version of this app is quite high, and it is professional software that beginners may find difficult to navigate. 
Pricing: The app's premium version costs about $59.99 per year and $19.99 monthly.
Support: The website has guides and resources with tutorials on using the app. They also have a separate support section where you can ask for help. 
9. 
By Click Downloader
A free YouTube video to mp3 audio service, By Click Downloader, allows hassle-free conversion and download of YouTube audio.
Pros: It is a safe and secure channel for performing video-to-audio conversions. There are multiple audio formats and qualities that you can choose from. It allows playlist and channel downloads at once as well. 
You can also purchase a subscription for upgraded features such as higher download speed and multiple conversions. You can also cut the downloaded audio for editing purposes. 
Cons: The application is only available for Windows Operating System.
Pricing: The app pricing starts at $4.99 for lifetime access. 
Support: You can find different tutorials for using the app on their website. You can also e-mail the support team. 
10. 
DVD VideoSoft YouTube To Mp3 Converter
An open-source software, you can download the application from the website for free. To use the software:

Visit the

DVD VideoSoft Converter website

and download the software.

Once installed, open the application.

Copy the YouTube video URL to the box.

Choose the desired format and quality. 

Click on Download
Pros: DVD VideoSoft Converter allows easy conversion of Youtube to mp3 without quality or portion loss. A safe gateway for conversion to multiple audio formats, including mp3, mp4, FLAC, OGG, etc. 
You can use the application to download YouTube playlists and channels in one go. You have the option of limitless downloads and merging multiple tracks into one. Such features make it one of the best YouTube to mp3 converters available.
Cons: The tool doesn't allow batch conversions and supports a limited number of formats. Moreover, the downloaded files are watermarked. 
Pricing: While the free version has many features, you can choose premium plans for $19 per year or $39 for lifetime access.
Support: You can visit the FAQ section on the website for your queries on using the app. 
11. 
WinX HD Video Converter Deluxe
The video converter app by WinX is a free, open-source tool available for Windows and MacOS computers. 
Pros: It supports a variety of video formats up to 8k resolution. The HD video converter deluxe allows a quick download of mp3 from YouTube videos due to its 47X GPU acceleration. 
In addition, the application allows compression and editing of videos. It also boasts a safe and clean interface, preventing your computer from internet malware. 
Cons: You must purchase the app's premium version to download videos longer than 5 minutes.
Pricing: The premium subscription starts at $19.95 a year
Support: The support section has a tech guide and FAQs on using the software. In addition, you can e-mail the support team.
12. 
Any Video Converter
A free desktop app compatible with Windows and macOS, Any Video Converter is popular among content creators. It is a comprehensive tool that allows a wide range of conversions and downloads.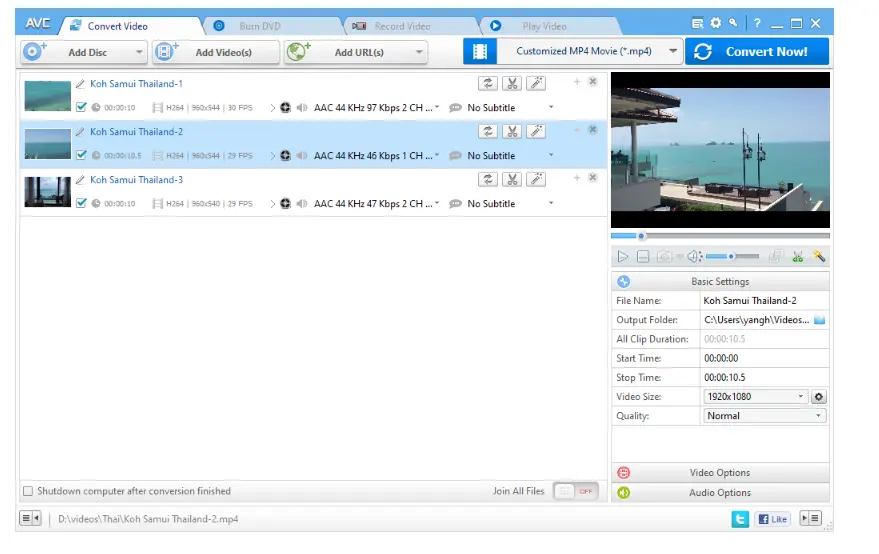 Pros: It is highly safe and malware free, without the interference of ads. The application can be downloaded on multiple devices, including mobiles and tablets. 
Moreover, its built-in technology presents audio loss during conversion and produces high-quality outputs every single time. You can add effects, filters, and formatting to your downloaded audio. 
Cons: While Any Video Converter has a broad range of features, users have reported distortion in a few downloaded videos. Moreover, the conversion rate is slower than other top converters, and the free version requires additional installs.
Pricing: The paid version of the app costs about $49.95 annually.
Support: The website has a separate support page to access how-to articles, FAQs, video tutorials, and a support e-mail.
13. 
iTube Go
With free and paid versions, iTube Go is one of the best platforms for extracting and downloading audio from YouTube videos. 
Pros: You can quickly download the videos in batches without compromising output quality. With the paid subscription, you can download YouTube playlists.
You can download and convert videos from multiple platforms apart from YouTube. In addition to it, its built-in browser allows you to surf videos and cut the downloaded files for editing and use in a few seconds.
Cons: You must buy the premium version to access features such as playlist downloads.
Pricing: The plans start at $12.95 for a month. The lifetime plan has discounts, costing $35.95. You can also choose yearly or family plans.
Support: The app has a dedicated resources section with tutorials and FAQs to answer all your questions. You can also contact their support team through e-mail if the available knowledge base isn't helpful. 
There are many more similar YouTube to Mp3 converters available online. While some of them are free to use, some have paid subscriptions. Nevertheless, these applications and online tools allow you to listen to offline YouTube video content.
Try different tools and websites to find the most suitable for your macOS or Windows. However, be wary of YouTube's Terms of Service, which prohibit downloading the content.